Hitachi Rail sign contract to install new digital signalling system
Hitachi Rail has signed a contract to digitise two yellow maintenance trains operated by Infranord with a new signalling system.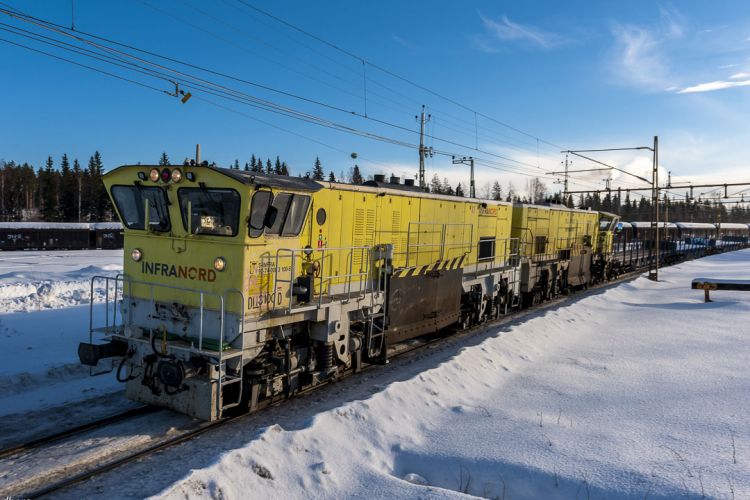 Credit: Mikael Lundberg
Hitachi Rail has signed a contract to install new digital signalling technologies on-board two yellow maintenance trains operated by Swedish rail maintenance company Infranord. The digitisation of these vehicles will help Infranord to better maintain rail infrastructure across the region.
The trains, referred to as Tb locos, are used to safely and reliably maintain the rail network regardless of the challenging winter weather conditions. Hitachi Rail will design, build, install, test and commission the on-board signalling system based on ERTMS (European Railway Transport System) technology and STM-ATC2 (STM – Special Transmission Module, and ATC2 – Automatic Train Control Level 2).
ERTMS technology is a key enabler for the digitalisation of the railways, with Hitachi Rail's ERTMS solutions operating on major railway networks and on-board all types of train fleets around the world, from Europe to Asia, Africa and Middle East, as well as from conventional lines to commuters and high-speed networks. STM-ATC2 is a system that enable the locomotives equipped with ERTMS embedded signalling system to circulate on conventional line not yet equipped with ERTMS wayside technology. The combination of ERTMS and STM-ATC2 technologies will allow Infranord's critical maintenance activity to take place on both upgraded and conventional parts of the railway, an important capability as Sweden continues to roll out its wider digitisation programme across the country. Whilst these technologies are more common on passenger and freight rolling stock, using the technology on maintenance trains represents an innovative step for both Infranord and Hitachi Rail.
"We are delighted to be supporting Infranord in the transition towards digitisation of its yellow maintenance trains in Scandinavia, with our on-board signalling systems," Eric Morand, Vice President of Nordics Hitachi Rail, said. "These technologies are more commonly used on passenger and freight rolling stock, using the technology on maintenance trains represents an innovative step for both Infranord and Hitachi Rail. This new partnership is a real opportunity for Hitachi Rail to support Infranord with higher standards of quality, safety and reliability for their customers in the region."