Eurostar Group reveals new brand to reaffirm ambition to double passengers by 2030
Eurostar Group has unveiled new branding which will support them in their ambition to carry 30 million passengers by 2030.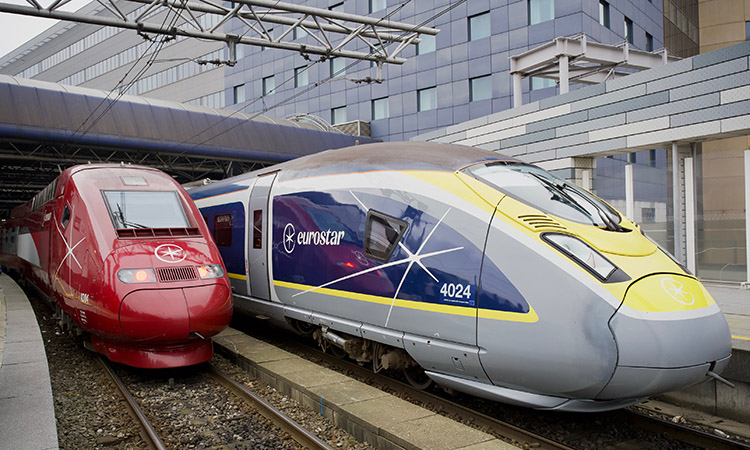 The new Eurostar brand Credit: Eurostar
The Eurostar Group, incorporating Thalys and Eurostar, has revealed the new branding to take the business forward, with a bold ambition to carry 30 million passengers a year by 2030 and become the backbone of sustainable travel in Europe.
The Eurostar Group brand
From the end of 2023, all customer touchpoints including the business' 51 trains will carry a sleek new look under the Eurostar brand name. Eurostar was selected due to high consumer awareness at both a European and global level, including overseas which continues to be a growing market for high-speed rail services.
The new business has chosen an iconic star as its symbol and new logo inspired by l'Etoile du Nord, the original train service linking Paris, Brussels, and Amsterdam and as a tribute to the first Eurostar logo. An animated spark graphic acts as a compass symbolising the brand purpose to spark new opportunities, connecting people, places, businesses, and cultures across borders.
Under a single brand, Eurostar Group aims to spark a new golden age for high-speed rail connectivity in Europe, continuing to convert road and air travellers to rail at a time when passengers are keen to have greener travel options.  A passenger's carbon footprint from one flight between London and Amsterdam is the equivalent of seven Eurostar journeys, and as the largest international high-speed rail network in Western Europe, crossing five countries and connecting 245 million people, there is huge potential to drive the modal shift to sustainable travel.
Eurostar Group passengers will have Europe at their fingertips, benefiting from a single loyalty programme covering all destinations across the current Eurostar and Thalys networks, as well as a single website and booking system from October 2023. For continental travellers, this will improve ease of booking direct and connecting journeys to London and for UK passengers it will offer simple, seamless connections between London and German destinations including Cologne.
With the alliance legally completed on 1 May 2022, this new brand marks a milestone in the bringing together of the two businesses.
Reactions to the new brand
"We are excited to unveil our new brand which will raise our visibility, help us become the backbone of sustainable high-speed rail in Europe, and support us in our ambition to double the number of passengers over the next decade," Gwendoline Cazenave, CEO of Eurostar Group, said. "Our customers will be able to experience the same quality of service they know and love across our unified network, linking iconic business and leisure destinations across five European countries. As Eurostar Group we are in a unique position to spark the next chapter for rail travel, to truly drive the modal shift from road and air to rail."
"We are proud to be engaged in Eurostar Group, the world's leading high-speed rail company," Christophe Fanichet, CEO of SNCF Voyageurs, said. "This new Eurostar brand, with its unified network, is at the heart of our ambition to enable international rail development and to double its modal share by 2030."
"We set out a bold ambition: increase the number of passengers from 19 million in 2019 to 30 million in 2030," Alain Krakovitch, Chairman of the Board of Directors for Eurostar Group, said. "We knew that the challenge of climate change and Europe's growing demand for eco-responsible and sustainable travel presents a great opportunity for both companies in terms of development in the long term."
"The unified brand and commitment to carry 30 million passengers a year by 2030 mark an inspiring new chapter for Eurostar Group, and more broadly, for sustainable mobility in Europe," Emmanuel Jaclot, Executive Vice-President and Head of Infrastructure for CDPQ, said. "At a time when every action counts, CDPQ is proud to accelerate the decarbonisation of transport in Europe with its portfolio companies, such as Eurostar, which we have been supporting since 2015."
"The unveiling of the new brand marks not only a firm determination to enter a new phase of high-speed rail beneficial to existing and new clients, but at the same time strengthens the central role of Brussels, the headquarters of Eurostar Group, as linchpin of rail connectivity and sustainable travel in Europe," Sophie Dutordoir, CEO for SNCB, said. "This exciting new phase of rail travel is timely as it constitutes an indispensable building block for Europe's sustainability goals."