Battery trains ordered from Siemens Mobility for Westerwald project
Hessische Landesbahn are to use three two-car Mireo Plus B battery trains from Siemens Mobility for their Upper and Lower Westerwald railway pilot project.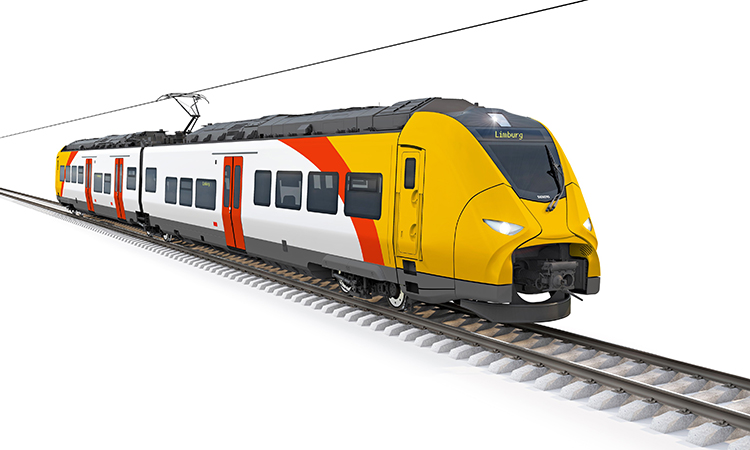 Credit: Siemens Mobility
Hessische Landesbahn has opted for three two-car Mireo Plus B battery trains from Siemens Mobility for their Upper and Lower Westerwald railway pilot project. Both routes in the Westerwald, with demanding gradients and long non-electrified sections, require high-performance trains. With its high drive power, the Mireo Plus B is ideally suited to meet this challenge. Battery-powered trains will achieve substantial CO2 savings and reduce noise levels and exhaust emissions in the region when they replace diesel trains.
The Mireo Plus B battery trains
For this project, Siemens Mobility is building three two-car Mireo Plus B battery trains, each with three doors on each side to facilitate quick and easy entries and exits. The trains are equipped with pantographs for operating under catenaries and charging batteries, and with batteries for operating on non-electrified routes. When operating in battery mode, the range of the Mireo Plus B on topographically challenging routes is around 80 kilometres without recharging. Silicon carbide technology used in the Mireo Plus B contributes to significant energy savings.
"The decision favouring the high-performance battery trains from Siemens Mobility marks a milestone on the long path toward providing climate-neutral public transport in Rhineland-Palatinate," Katrin Eder, Minister for Climate Protection, Environment, Energy and Mobility for the State of Rhineland-Palatinate, said. "Expanding the use of alternative drives is indispensable for achieving the mobility transition and protecting the climate. We are preparing the road for the public transport of the future."
"We are convinced that this environmentally friendly, innovative technology is especially suitable for use in difficult, longer uphill stretches in the low mountains," Veit Salzmann, CEO of Hessische Landesbahn, said. "We are really pleased to have this opportunity to deliver proof of this capability in everyday operations."
The upper and Lower Westerwald railway pilot project
The new battery trains will operate on the Oberwesterwaldbahn (OWB) from Limburg to Altenkirchen – Au – Siegen, and on the Unterwesterwaldbahn (UWB) between Limburg – Montabaur – Siershahn. The OWB route is 115 kilometres long and includes a 75-kilometre stretch without overhead power lines. Plans call for charging the train's batteries in Limburg and on the Au – Siegen stretch. The non-electrified section on the UWB is approximately 35 kilometres long. This enables trains to operate back and forth without recharging. The trains will serve more than 50 stations on the two routes.
"The order from Hessische Landesbahn as our contractual partner to Siemens Mobility for the delivery of the battery trains has laid the basis for the innovative trains with climate-friendly drive to prove their suitability in everyday passenger service in the Westerwald region," Achim Hallerbach, District Administrator for District of Neuwied and Head of the SPNV-North, said. "We're quite excited about the experience and lessons that the pilot project will provide. This will allow us to take further decision on the use of alternative drives."
 "We are delighted to have this opportunity to demonstrate in the Westerwald pilot project that alternative drives offer a really good and green alternative for passenger transport even on topographically challenging routes and long non-electrified route sections," Elmar Zeiler, Head of Regional Trains for Siemens Mobility, said. "The Mireo Plus B from Siemens Mobility is climate-friendly, powerful and quiet, and delivers significant CO2 savings since it replaces diesel with battery power."