ÖBB unveil modernisation plans for Summerau station
ÖBB have released plans for renovation work at Summerau station which includes raising platforms to enable stepless access to the train for passengers.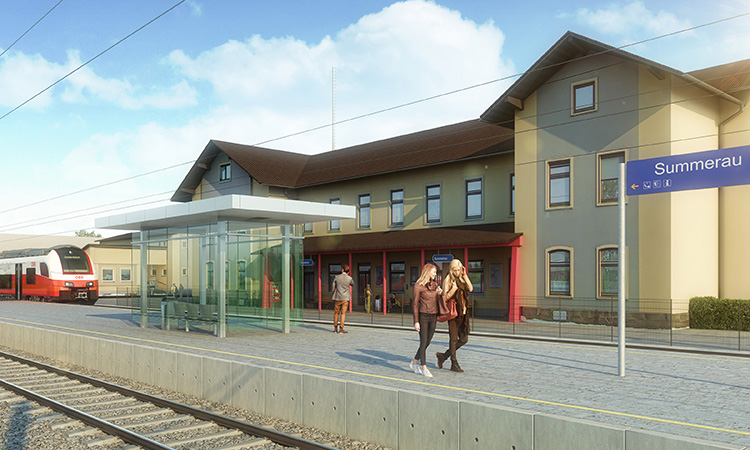 Image rendering of the modernised station - Credit: ÖBB
ÖBB are investing approximately €11.4 million into a comprehensive overhaul of Summerau station to make it fit for the demands of the future. The work will last from February 2023 to October 2023. During the renovation work, the platform will be raised to enable stepless boarding and alighting. Through this, people with restricted mobility will be able to board local trains more easily in the future, increasing comfort for all our passengers. The new platform will also be equipped with a new waiting berth to offer travellers a comfortable stay even in inclement weather. New monitors on the platform will inform travellers in real time about departure times.
Making the Summerauerbahn more attractive
The approximately 61-kilometre-long railway line between Linz and Summerau is an important connection for both commuters and leisure travellers. Since 2017, ÖBB has been consistently continuing its station offensive on the Summerauerbahn and making stations and stops more attractive in order to convince even more people to switch to the environmentally friendly railway in the future.
"Environmentally friendly mobility for customers is the focus of day-to-day work at ÖBB-Infrastruktur AG," Judith Engel, Infrastructure Board Member for ÖBB, said. "In order to make rail travel even easier and more comfortable, we are modernising our stations and routes. We want to use this to appeal to even more passengers in the future."
"The Upper Austrian infrastructure offensive is a comprehensive attractiveness package with which the rail infrastructure throughout Upper Austria is being renewed," Günther Steinkellner, Infrastructure Provincial Councillor, said. "This Upper Austrian package was successfully implemented with the modernisation of the Summerau train station. The passengers in the Mühlviertel benefit from accessibility and the security of the mobility offer in rural areas."