Northern complete digital train programme
Northern have celebrated the completion of the digital train programme, a three year project which aimed to improve on-board technology for customers.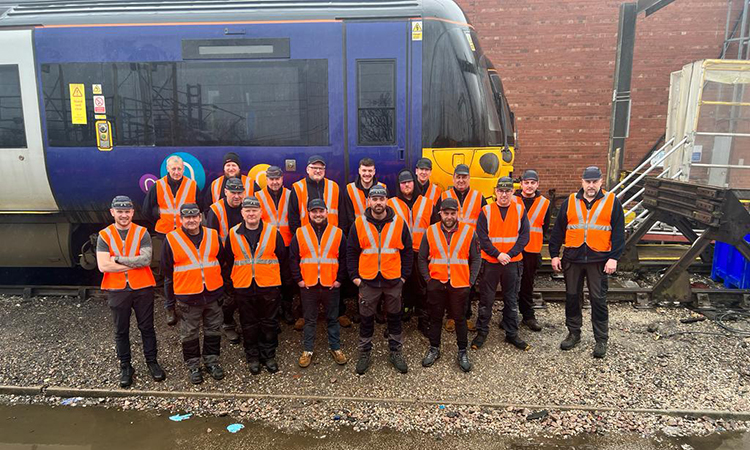 Credit: Northern
Northern is celebrating the completion of a three-year project to improve on-board technology for customers using the train operator's services across the North of England. The 'digital train' programme was a multi-million-pound investment to ensure the older trains in Northern's fleet have the same digital facilities as the 101 new trains they introduced into service in 2021.
In total, the team has re-fitted 233 trains with Wi-Fi, HD CCTV cameras, live passenger information screens, passenger counting and 17,200 USB charging sockets. They have worked their way through 510,00 nuts and bolts, 4,000 circuit relays, 6,800 circuit breakers, 1,200 antenna mounting plates and 725 kilometres of electric cable.
"We're thrilled to see the final 'digital train' come off the production line," Jack Commandeur, Engineering Director at Northern, said. "This has been an epic, three-year project delivered against a backdrop of COVID-19 lockdowns and the team deserves a huge credit for keeping at it and getting us to this point. Customers across the network can now enjoy enhanced digital facilities on their journeys. The project would not have been possible without a number of partners – and I'd like to thank everyone at ADComms, Belvoir Rail, Icomera, Yellow Rail, Ricardo, Huber & Suhner, Porterbrook, Angel and Eversholt."
Fleets that have been part of the digital train makeover include the Class 150, Class 155, Class 156, Class 158 and Class 170 diesels along with Class 323 and Class 333 electrics. Each train required 1,100 hours of work with an average turnaround of five days per unit.
"Digital trains deliver truly ground-breaking passenger benefits and, as one of the largest upgrades in the rail industry, the team should be immensely proud for what they have achieved," William Edwards, Digital Trains Project Manager at Northern, said.
Internet provision on-board Northern's trains is delivered under the 'Friendly Wi-Fi' scheme – a government-initiated safe certification standard for public Wi-Fi. Friendly Wi-Fi aims to reassure users that the service meets minimum filtering standards – particularly in areas where children are present, such as on-board Northern's trains. Northern has been a member of the scheme, which is delivered in partnership with the UK Council for Child Internet Safety (UKCCIS), since 2017. Northern is the second largest train operator in the UK, with 2,500 services a day to more than 500 stations across the North of England.