Major railway engineering works in Britain to take place over Easter
Network Rail will be carrying out major improvements across Britain's rail network over Easter to ensure the railway is safe and reliable for passengers and freight in the future.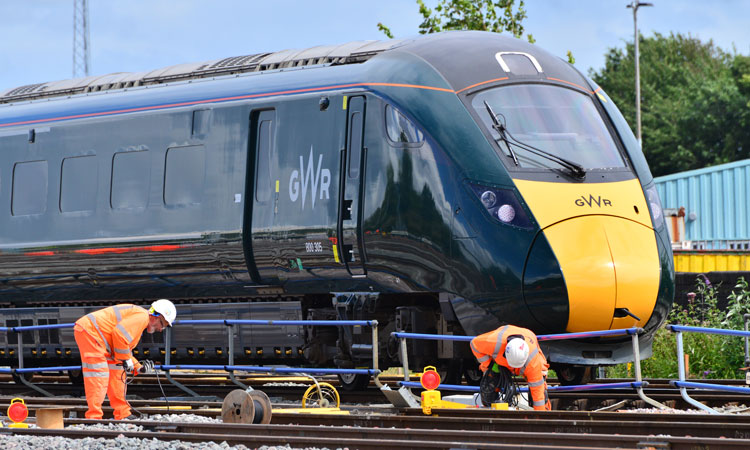 Credit: Network Rail
Network Rail – the owner and infrastructure manager of most of the railway network in Great Britain – will be carrying out major railway upgrades over the Easter holidays to improve future journeys.
Network Rail have been urging passengers to plan ahead as thousands of rail workers prepare to deliver an £88 million programme of engineering work.
Andrew Haines, Network Rail Chief Executive, said: "Our Easter engineering programme has been carefully planned so the majority of the rail network will remain open for business. However, some routes will be affected by this work, so please remember to check before you travel.
"Colleagues from Network Rail and our rail partners will be working hard to deliver £88 million worth of investment during the course of the weekend (Friday 7 April to Monday 10 April inclusive). These vital projects will upgrade the railway so that we can provide a better and more reliable service for our passengers and freight users in the future."
Whilst the vast majority of the network – more than 95% – will be unaffected by the engineering work taking place, it is expected there will be disruption on some routes. Network Rail says engineering work programmes are scheduled for bank holidays to minimise disruption to passengers, as typically fewer passengers use the railway during these periods.
Engineering work
More than 12,000 metres of new rail and 33,000 tonnes of ballast will be laid over the long weekend amongst other major projects being undertaken to boost reliability and performance across Britain. Some of the planned works include:
Sussex route
Engineers will be working tirelessly to renew outdated switches and crossings at Streatham to improve safety and reliability. As a result of this work no trains will run between East Croydon and London Victoria.
This work is part of the wider London Victoria signalling upgrade programme which is a major four-year package of upgrades to modernise 1980s track and signalling in south London and into London Victoria. This multi-phase programme of work is progressing well and the work to be completed over Easter will conclude the third phase of upgrades, between London Victoria to Clapham Junction and Balham, completing a £160 million investment into this area of railway.
Cross City line
Network Rail is investing £4 million to upgrade a railway bridge on the Cross City line between Birmingham and Lichfield. The essential work will keep freight moving across the Midlands and mean more reliable journeys for passengers on both important rail routes in future.
North West route
£5 million is being invested across the North West route on a raft of upgrades to tracks, signalling systems and essential railway equipment. Just some of the work will include: multiple railway track upgrades along the West Coast main line between Lancaster and Carlisle; switches and crossings upgraded at Weaver junction in Cheshire; signalling improvements in Crewe; ongoing track upgrades so more trains can run in future on the Hope Valley line between Sheffield and Manchester; and ongoing upgrade work at Carstairs junction.
West Coast South route
£10.8 million is being invested to upgrade track and overhead lines on the West Coast South route to improve future journeys between London and Crewe. The main focus for engineers will be the final phase to overhaul Watford junction which first began three years ago.
James Dean, Network Rail's West Coast South Route Director, said: "We're once again returning to Watford junction to complete a huge £15 million upgrade which will transform the way we can move trains through the area, meaning fewer delays and extra capacity on this economically important passenger and freight route."
Southern region
Essential work will take place to stabilise embankments in South Kent and improve the track at Charing Cross station in London.
Engineers will stabilise cuttings and embankments at Wadhurst, Frant and Snape Wood, helping to prevent the likelihood and impact of landslips in the future.
A series of track renewals will take place at Charing Cross station where engineers will repair and maintain the track to improve reliability for passengers. 
Further maintenance work will be carried out between New Cross and Sidcup/Petts Wood including a points refurbishment – the equipment that guides trains move from one track to another – at St Johns and tamping (compacting the stones that support the tack) and rail grinding in the Hither Green area.
More maintenance work is also happening between Ashford and Dover Priory which will include third rail maintenance, track repairs, vegetation clearance, boundary inspections and drainage improvements.
Anglia route
Engineering work will continue on the renewal of the signalling systems north of Cambridge, together with vital maintenance work. The Cambridge Re-signalling project is investing £194 million to renew the signalling system for the Cambridge area, improving efficiency and reliability for passengers and freight users.
Engineering work will continue on the mainline to facilitate construction activity for the new Beaulieu Park station, wheel timber renewal work on Feering bridge in Kelvedon and track work at Witham to reduce risk of failures of switches and crossing.
Wessex route
Engineers will be installing new, additional signals on the Windsor lines between Hounslow to Windsor & Eton Riverside and Virginia Water, to bring the signalling system up to modern standards.
This work is part of the £116 million Feltham and Wokingham re-signalling programme which, by August 2023, will have seen 116 new signals installed, 11 km of new cabling laid, and seven level crossings renewed. The existing equipment on this stretch of railway dates back to 1974 making it harder to maintain and is more unreliable. Once complete, this programme of work, which will run through to mid-2024, will help improve train performance and bring more reliable journeys to passengers travelling on this key commuter line.
In Basingstoke, engineers will also be carrying out track improvement work at Great Western Junction including renewing switches and crossings, laying new track, earthworks, and tamping.
Full engineering activity planned for Easter can be found on the Network Rail website.