Syslogic introduces three AI rugged computers
For the Rugged Computer RPC RS A4NX, Syslogic has combined the NVIDIA® Jetson Orin™ NX with a purpose-built carrier board.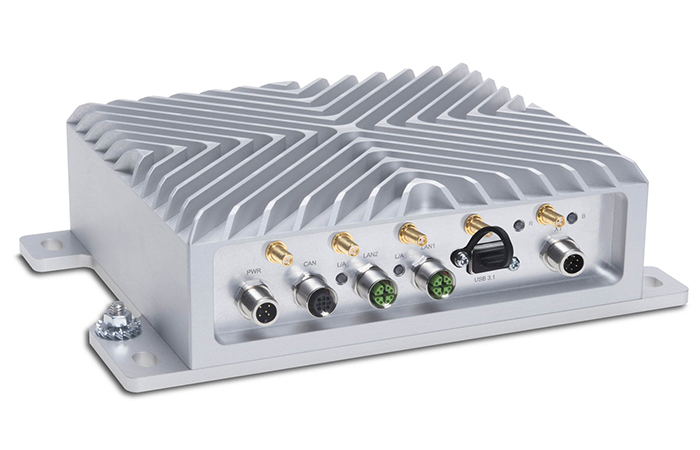 The NVIDIA Jetson Orin NX 16GB has 100 TOPS of AI computing power and 16GB RAM. This is three times the performance of the NVIDIA Jetson AGX Xavier™. The SoM is smaller than a credit card and impresses with a low power consumption of 10 to 25 watts. This unique combination of form factor, performance and energy efficiency opens the door for a new generation of autonomous edge devices.
Syslogic is introducing three rugged computers based on the Jetson Orin NX module for use in demanding environmental conditions. The first is the extremely compact Rugged Computer RPC RS A4NX. In Q2 2023, Syslogic will release the larger Rugged Computer RPC RML A4NX, available in two versions – one with PoE and one with GMSL interfaces. This allows a wide range of sensors, such as lidar, radar and cameras to be connected to the embedded systems in order to implement sophisticated computer vision applications. Accordingly, the AI computers are suitable both for autonomous vehicles and for intelligent video surveillance in trains or train stations.
Robust for tough field operation
The Syslogic devices in particular impress with their ruggedness and reliability. The Rugged Computer RPC RS A4NX is certified to IP67. Syslogic has combined the NVIDIA module with a specially designed carrier board that fulfills the same high shock and vibration requirements as the rest of the device. To protect the electronics against moisture, humidity and dust, the embedded computer features a robust housing with screw-on M12 connectors. Furthermore, a Gore vent ensures pressure equalisation inside the device. This makes the rugged computer one of the world's most robust devices currently available based on NVIDIA Jetson.
Paid promotion supported by Syslogic.