New railway link between Chopin Airport and the city centre is open
The beginning of June saw the opening of a railway line connecting Chopin Airport with central Warsaw. The convenient journey takes around 25 minutes.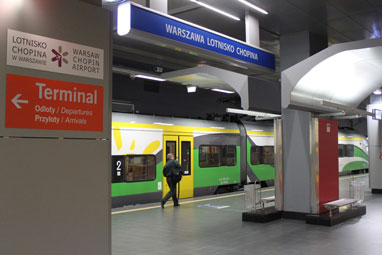 The train connection to the airport has been long awaited. Work began in 2006 with a major repair of an 8-kilometre track section between Warszawa Zachodnia and Warszawa Okęcie stations and the construction of two new stops, serving the newly built housing estates nearby.
The next step was to build a two-track link between Warszawa Służewiec station to the underground railway station at Chopin Airport. The link is over two kilometres long with nearly 1200 metres running below ground. More than 50,000 cubic metres of concrete and 9,200 tonnes of steel were used in the process and 15 thousand trucks worth of soil was removed.
"The construction of the underground tunnel presented a number of challenges. For example, we came across the remains of a 19th century Russian fort, which wasn't shown on any map. Another problem was posed by finding soil contaminated with diesel fuel, which had to be safely utilized," explains Maciej Dutkiewicz, the spokesman for Polish Railways Development Projects Centre.
Along with the construction of the rail link, extensive safety improvements were made, most notably building a dedicated traction substation and switch tower. The work also involved modernisation of Warszawa Służewiec stop. The whole project was worth 366 million zlotys and was partly financed by the European Union.
The new line, which was opened on 1 June, is able to serve up to six pairs of trains an hour, which gives a total capacity of more than 10,000 passengers.
"It's a big day for us. The railway link is the most convenient way of getting to and from the city for passengers using Chopin Airport. I'm glad it's finally ready," said Michał Marzec, the airport's director.
During the morning and afternoon rush hours, trains from the airport to the city centre run every 10-12 minutes and outside rush hours every 15 minutes. The journey from Chopin Airport to Warszawa Centralna station takes about 25 minutes.
The service is operated by two companies: Szybka Kolej Miejska (Fast Urban Railway) and Koleje Mazowieckie (Masovian Railways). The operators accept both types of tickets, which means that all public transport tickets, including single-fare, short-term and unlimited ride tickets, are valid on Koleje Mazowieckie trains (on the Chopin Airport – Warszawa Wschodnia section), and Koleje Mazowieckie tickets are good on SKM trains – on the same section.
Tickets for a ride from the airport to the city centre are sold at every newsstand and at ticket machines at the station or on trains. Tickets for other routes, priced as per the operators' tariff, are available from ticket machines or at ticket windows at most railway stations.
Related topics
Related regions
Related people