Department for Transport passes digital technology on new Hitachi trains
Hitachi's new intercity trains, due to enter passenger service this autumn, have passed tests to run their digital technology required by the Department for Transport.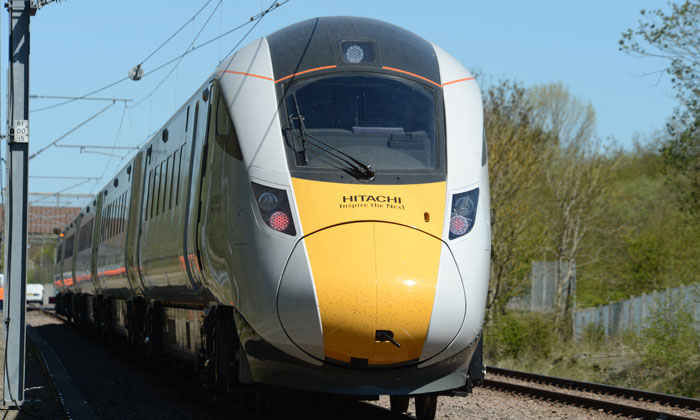 The UK-built fleet, known as the Class 800s, is among the first in the country to successfully test an advanced level of digital signalling.
The technology is part of the Digital Railway – an industry programme for digital modernisation to increase rail capacity, ease overcrowding and improve performance on Britain's rail network. This improvement includes digitising signalling systems, which will feed more continuous information from track side equipment into the driver's cab, enabling trains to run closer together and creating more regular services.
The digital system tested by Hitachi, known as European Train Control System (ETCS), will inform drivers about how to change their speed as well as about potential hazards ahead. ETCS is a far cry from the long-standing signalling system currently used on the country's rail network, which operates like traffic lights.
Hitachi's intercity trains past tests using an advanced level of ETCS called Baseline 3.
"Our new trains are helping to transform UK rail by using industry leading technology. Passing digital signalling tests is a major breakthrough for the industry and another step towards easing the problem of overcrowding," said Andy Rogers, Programme Director for Hitachi Rail Europe. "The trains will significantly boost capacity on some of the busiest routes in the country through more seats, greater use of on-board space and pioneering digital technology."
A test train fitted with the digital technology carried out tests at Network Rail's state-of-the-art signalling facility ENIF (ERTMS National Integration Facility) in Hitchin. Testing included recreating real life scenarios experienced on the UK rail network and ensuring the new system met rigorous safety requirements.
As part of the Department for Transport's £5.7 billion Intercity Express Programme (IEP) Hitachi is building and maintaining 122 new trains, which are being built at Hitachi's UK manufacturing facility in Newton Aycliffe, County Durham.
The IEP programme also includes new trains to begin running passenger services on the Great Western main line from autumn 2017 and the East Coast main line from 2018.
Following additional orders, Hitachi's intercity trains will also run on the Transpennine Express route from 2019, as well as connecting London to Devon and Cornwall from 2018.