Plans to modernise customer service on the London Overground announced
London Overground's operators, Transport for London (TfL) and Arriva Rail London (ARL), have announced plans to review and modernise customer service on London Overground.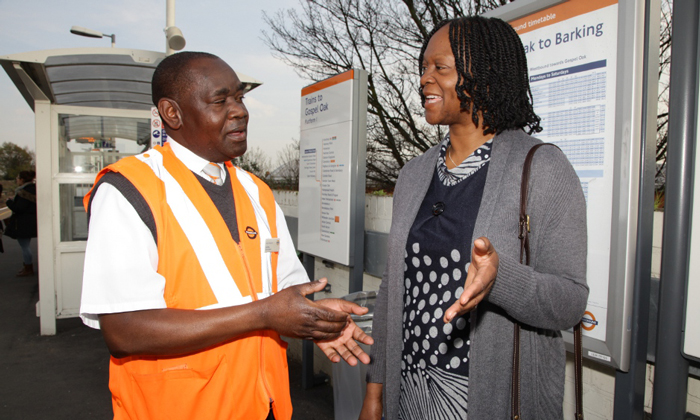 Credit: Arriva Rail London
As part of the programme to modernise customer services, ARL will begin meeting with its staff and trade unions to discuss a range of initiatives, including making London Overground staff more visible and available at stations, providing assistance and information where it is most needed, and modernising the process for selling tickets.
ARL is also considering increasing the number of staff it directly employs in permanent roles, and reducing reliance on agencies to cover customer service positions. It will also consult with London Travel Watch, the independent statutory watchdog for transport users in London, and the Department for Transport (DfT) on the emerging plans.
"As the London Overground network has grown, our staff have been instrumental in adapting to customer trends, new technology and ways of working that benefit customers, communities and employees," said Will Rogers, Arriva Rail London's managing director. "Our programme aims to create a stronger London Overground, with a secure and skilled future for our employees."
TFL has also announced Night Overground services as well as a new fleet of trains next year.
"The London Overground network has improved enormously over the last decade," added Jonathan Fox, TfL's Director of London Rail. "We want to continue that trend and make sure that we are continuing to provide a first-class service that meets the needs of today's customers."
TfL and ARL have reviewed the previous Fit for Future Stations programme on London Underground and are ensuring that all lessons learned are incorporated into the proposals. The proposals also take on board recommendations from the London Travel Watch's review into the London Underground programme published last year.
Future improvements for London Overground that are already confirmed include the introduction of a 24 hour night service for the very first time this December, following on from the successful Night Tube that launched in 2016.
Related organisations
Related regions