Alstom to supply 14 Coradia Polyvalent trains to two regions in France
14 additional Cordia Polyvalent trains are to be supplied by Alstom to the regions of Bourgogne-Franche-Comté and Grand Est…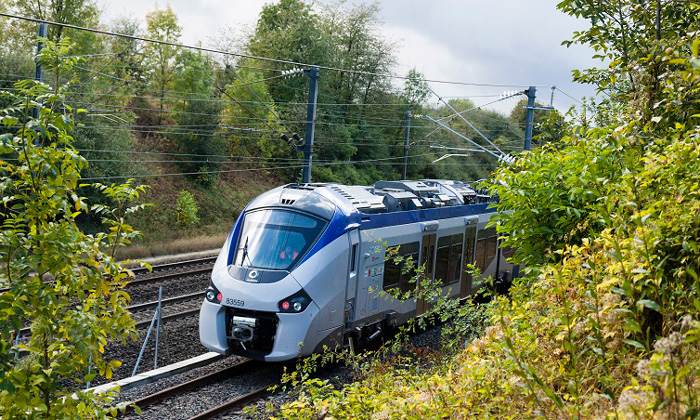 The 14 additional Coradia Polyvalent trains have been ordered for approximately €100 million. These options form part of the Regiolis contract signed in 2009 and follow the 285 trains already ordered by the regions and the French State.
The Bourgogne-Franche-Comté region has ordered eight Regiolis electric trains consisting of four cars each, in addition to the 16 trains of the same type already ordered. The Bourgogne-Franche-Comté region's Regiolis fleet will consist of 24 trains by 2020, in line with its objective to promote cleaner mobility and its strategy to invest in more modern, comfortable and cost-effective trains.
The Grand Est region has decided to purchase six new trains, including five Coradia Liner trains and one Regiolis dual-mode train. The Grand Est region already has a fleet of 34 Regiolis trains and 19 Coradia Liner trains in commercial service.
"These additional orders are excellent news for the French railway industry and for Alstom's sites in France," said Jean-Baptiste Eyméoud, President of Alstom France. "They reflect the regions' renewed confidence in Alstom and their solution of Coradia Polyvalent."
Regiolis and Coradia Liner are part of Alstom's Coradia range of trains, which are available in three lengths (56m, 72m and 110m) and two types of engines (electric or dual-mode thermal-electric). They can accommodate up to 330 passengers and run at speeds of 160km/h.
They provide increased comfort due to seats equipped with individual reading lights and power outlets, spaces dedicated to bicycles and luggage, large bay windows and reduced noise levels. The fully low-floor allows accessibility to all and the on-board circulation is more fluid with spacious passenger areas.
The reduced weight of the trains with their synchronous permanent magnet motors for traction combined with articulated architecture, enable a reduction in energy consumption of about 30 per cent compared to the diesel locomotives. In addition, acquisition, operation and maintenance costs have been taken into account since the design stage to curb expenses incurred during the train's 30-year lifespan.
More than 40 million km have already been covered by the fleet in commercial service.