Hydrogen-powered train technology being tested in Ontario
Ontario is investing in sustainable, innovative public transit to increase reliability and frequency of their rail service whilst creating fairness and opportunity during this period of rapid economic change…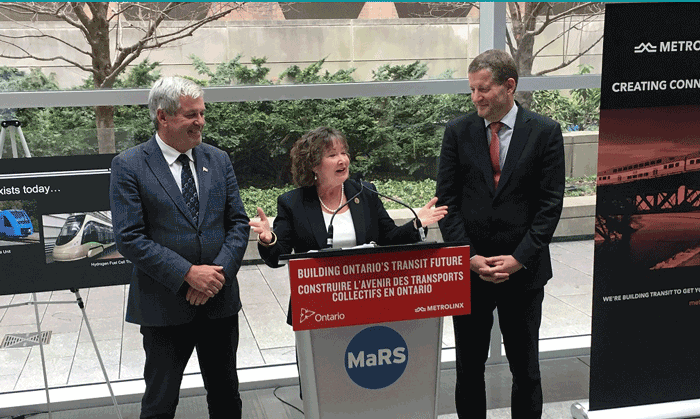 MPP Arthur Potts, Transportation Minister Kathryn McGarry, and Metrolinx CEO Phil Verster (from left to right)
Ontario is exploring the potential of hydrail as an alternative to conventional trains; transforming the GO network into a rapid-transit system that will provide faster and more frequent services for passengers.
Kathryn McGarry, Minister of Transportation released the province's Hydrogen Rail (Hydrail) Feasibility Study, which revealed the feasibility of building and operating an electrified rail service on GO Transit and the UP Express using hydrogen-powered trains. This would be at a cost comparable to conventional electrification using overhead wires.
Kathryn commented: "The potential benefit of hydrogen fuel cells compared to overhead wires makes exploring hydrogen rail technology worthwhile. Our government is taking the next step in assessing how this important technology could work for our own transit system."
Ontario is working with Alstom and Siemens to produce concept designs that incorporate hydrogen fuel cells into bi-level trains. The province is also issuing a request for proposals (RFP) for designs of a hydrogen fuel cell-powered locomotive which has the potential to lead to a prototype rail vehicle that would be tested on the GO rail network.
Electrifying the GO rail network is part of the largest rail project in Canada as Ontario invests $21.3 billion in transforming GO from a commuter transit system to a regional rapid transit system. Weekly trips are expected to grow from 1,500 to nearly 6,000 by 2025 with more frequent two-way and all-day services.
"Our Hydrogen Feasibility Study and Hydrail Symposium have shown that it is worthwhile to take a more in-depth look at using hydrogen fuel cell powered rail vehicles to electrify the GO Transit network. The opportunity to further examine the scope, costs, benefits and risks of this technology is something my team and I are looking forward to in the coming months," said Phil Verster, President and CEO of Metrolinx.