Stadler reveals first 'Traverso' train for Südostbahn AG
The new FLIRT trains will provide improved passenger comfort, amenities and accessibility across the Swiss railway network…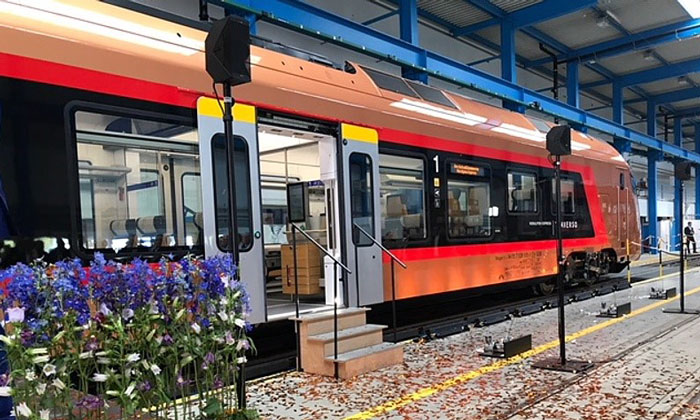 For the first time, after just under two years of development and construction work, Stadler's multiple-unit FLIRT train 'Traverso' has been presented.
Swiss railway company Südostbahn AG (SOB) will operate the new low-floor trains along the Voralpen-Express route between St. Gallen and Lucerne.
The trains for the SOB reflect the current development status of the FLIRT vehicle line (Fast Light Intercity- and Regional Train) – with enhancements such as completely new motor bogies and other optimised carrying bogies.
Overall, Stadler is building six eight-car and five four-car trains for the SOB, which were ordered at the end of June 2016 to replace its older compositions.
Thomas Ahlburg, Group CEO of Stadler, said: "Both companies have a pragmatic approach to challenges which was apparent in the joint testing of new technologies for existing vehicles. In the case of the new Voralpen-Express, a variety of innovations could be incorporated into the train thanks to the excellent cooperation between the two project teams."
The new trains provide innovation and comfort with high-quality interior fittings specially tailored to the needs of different user groups. Commuters will find areas where they can work quietly whereas tourists and people on excursions can enjoy views from the panoramic windows, stow skis and bikes away safely and buy food and drink in the two catering areas.
The eight-car trains can seat over 359 passengers, including 68 in first class. The four-car trains can seat 197 people, including 22 in first class. Passengers can plug their devices into power outlets fitted next to every seat. The trains run at an operating speed of 160km/h and have a new, lightweight bogie which can be replaced quickly during maintenance work.
The new 'Traverso' has the following characteristics that all the FLIRT vehicles have: Step-free entrances, a spacious interior and car bodies with a lightweight aluminium construction, which results in significantly lower energy consumption and therefore considerably reduces energy costs.
Hans Altherr, Chairman of the Board of Directors of SOB, said: "Once timetable changes have been introduced in December 2019, the new vehicles will be rolled out on the Voralpen-Express line to replace the entire previous fleet. On 13 December 2020, the SOB will enter into a partnership with Swiss Federal Railways (SBB) in the area of long-distance transport. From this date, trains will set off each hour from Zurich or Basel in turn and cross the Gotthard mountain route to Locarno, considerably increasing our market area."