Northern's first new 98 train arrives in the UK
The first of Northern's new 98 trains has arrived in the UK.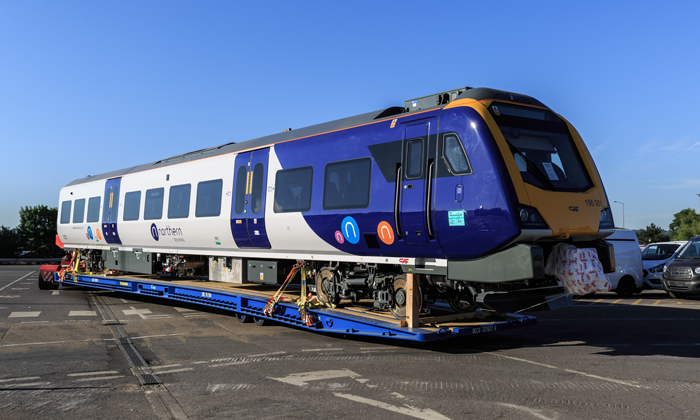 The diesel train arrived into Royal Portbury Dock, Bristol, by ship from Spain on 25 June and will be transported by lorry to Merseyside for finishing work over the next few weeks before it enters testing on the UK rail network.
It is due to be followed in a few weeks' time by the first of Northern's new electric trains.
The £500m of new trains that are under construction are the highlight of Northern's modernisation plans, which also include removing Pacer trains, refurbishing all existing trains to a high standard, better stations and more services by 2020.
The new trains will boast a level of specification that will set new standards for local rail in the North, including air conditioning, at seat power sockets, free Wi-Fi, and an electronic seat reservation system. All new trains will be fully accessible.
These modern fleets of trains, the first brand new trains onto the Northern network for a generation, are being built by CAF and owned by Eversholt Rail.
Enthusiasts and customers will catch a first glimpse of the trains this summer when they begin testing in the North.
"Getting the train onto UK soil is a major milestone in our modernisation programme," commented Ben Ackroyd, Engineering Director at Northern.
"Northern's engineering and operations teams have worked hard to produce a design that will deliver a real improvement in our customers' on-board experience. I'm excited to see the first of them go into service at the end of the year."
Mary Kenny, CEO at Eversholt Rail, said: "As owners of this new fleet of Class 195 trains, we are excited about moving into the next phase of the project and look forward to working together with our partners Northern and CAF on the UK commissioning and testing of these new trains."