Network Rail and train operating companies plan for harsh winter weather
Network Rail's fleet of snow-and-ice-busting trains will travel the equivalent of six times around the world in the south east, anti-icing the rails to keep passengers moving.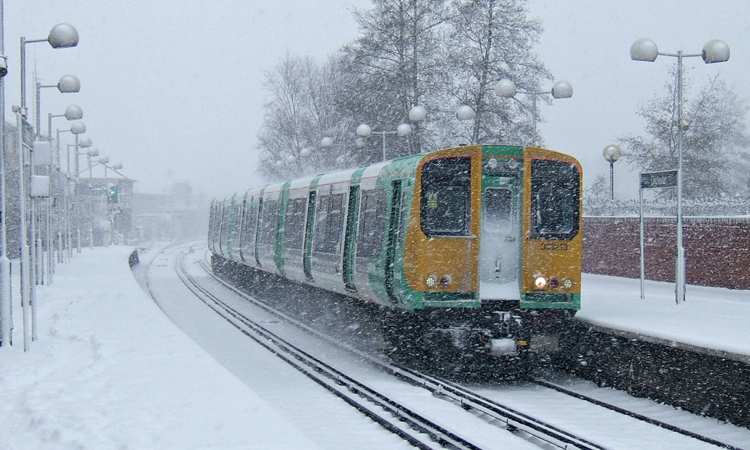 Launching Network Rail's annual winter campaign to reduce the impact on services and challenge the misconception that ice on the tracks is a rail industry excuse, Network Rail southeast's Managing Director, John Halsall, said: "When the mercury plummets, even the lightest shower of rain or dusting of snow can freeze on the rails, preventing trains from drawing power or being able to move with any speed. And in the worst cases, it stops them from being able to move at all.
"Snow and ice also causes points – which allow trains to move between tracks – to freeze solid or get jammed with compacted snow. When this happens, trains can't run safely over them."
Working alongside Southeastern and Govia Thameslink Railway, the snow-and-ice-busting trains will travel the equivalent of six times around the world in the south east, laying anti-icing fluid to stop the electric rail freezing up.
Southeastern's Managing Director, David Statham, said: "The couplers that join carriages together can also become iced up, making it difficult to join them together, or split them apart, which reduces the number of trains we have available. We know our passengers have places to go and together with Network Rail we've been preparing for winter for months in advance. During the most difficult conditions, we change to a Winter Weather or Severe Winter Weather Timetable to keep trains running."
Network Rail has fitted points which are most likely to freeze with heaters and NASA-grade insulation to prevent ice forming, and installed conductor rail heating in areas prone to freezing. A more effective anti-icer fluid is being trialled on the Sheerness line, which contains more of the active ingredient that stops ice forming.
They have also organised to receive detailed forecasts from MetDesk to help formulate local action plans during adverse weather, minimising disruption to passengers. The forecasts cover not just the weather but how the conditions will impact on specific railway infrastructure such as the tracks and conductor rails. A network of hundreds of monitoring stations also provides real-time weather data, enabling Network Rail to respond to conditions as they develop in real time.
Andy Thomas, Managing Director of Strategic Operations at Network Rail, said: "We work closely with train operators to minimise any impact on passenger services during winter weather such as snow and ice. Key sections of track are fitted with heaters and insulation to help stop them freezing, and empty trains can be run through the night to help keep tracks clear. We have extra teams of people on the ground to respond to incidents and carry out regular inspections of our infrastructure. When conditions are very serious, trains might have to slow down – just as a car would on a road – this is so everyone can get where they need to go, safely."
Alongside this Southeastern will run empty 'ghost trains' overnight to keep tracks and overhead cables free of snow and ice, and train all new Southeastern drivers at a one-day low adhesion training course, using simulators to support drivers during severe and adverse conditions.
Govia Thameslink Railway (GTR) also has robust plans in place, including running ghost trains overnight to help keep tracks clear, plus its new fleet of Thameslink trains which feature a special snow mode to help braking.
Alex Foulds, Business Improvement Director and Deputy Chief Operating Officer at GTR, said: "We can never guarantee to keep all our services running if the weather takes a very bad turn for the worse, but with Network Rail we are well prepared and will do all we can to keep passenger disruption to a minimum."
GTR began preparing for wintry weather in the autumn, with de-icing equipment distributed, stocks checked, staff briefed on procedures and modifications made to classes of train to increase resilience.
South Western Railway will also be running 'ghost' trains at night, to help keep the tracks clear of snow and ice, and will be spraying external passenger doors with de-icer to stop them jamming.
David Dickson, Chief Operating Officer for Network Rail's Wessex route, said: "We have been working hard with South Western Railway, and our other train operators, to prepare for cold weather on this route so we can keep our passengers moving when the temperature falls. Our fleet of multi-purpose vehicles will travel a huge distance to reduce the impact of the weather on train services from London Waterloo and down to the south coast. We will also have extra teams of people on the ground to respond to incidents and carry out regular inspections of our infrastructure throughout the winter period."