Network Rail announces preferred bidders for final track work contracts
The latest contract award covers work in London North West, London North East and East Midlands routes.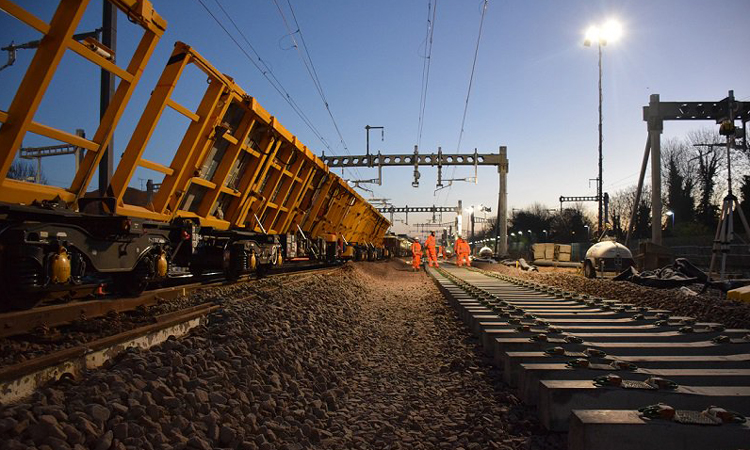 Network Rail has announced the final preferred bidder for delivery of track upgrade works for the next decade in central England, which includes track, points and associated overhead lines and signalling.
This is worth an estimated £1.5 billion over 10 years.
The latest contract award covers work in London North West, London North East and East Midlands routes and has been awarded to Balfour Beatty, TSO and SNC-Lavalin's Atkins business. This follows an earlier announcement confirming Babcock Rail, Arup and Arcadis as the preferred bidders for Scotland and Colas Rail and AECOM for the South, completing the full picture of rail system work in the UK.
Steve Featherstone, Network Rail's Programme Director – Track, said: "I look forward to working closely with Balfour Beatty, TSO and Atkins to establish our new alliance to deliver great value for the taxpayer and great service for our passengers and freight customers. Reaching this important milestone ensures we will have a stable foundation for the delivery of the core railway infrastructure across Great Britain for the next decade."
The announcement is subject to contract terms being finalised and agreed, but marks the final 10-year contract of three new geographically-focused alliances between Network Rail, designers and construction suppliers.
Philip Hoare, CEO of Atkins UK & Europe, said: "This is a significant and exciting appointment for Atkins as part of an alliance helping to deliver the biggest upgrade to Britain's railways in 150 years.
"As an industry we're embracing new collaborative ways of working and the application of technology to meet the needs of passenger and freight services alike."
Leo Quinn, Balfour Beatty Group Chief Executive, said: "Balfour Beatty is proud to be part of the alliance appointed to ensure reliability of the UK's rail network. Our expertise will be focused on driving innovative solutions that deliver sustainable, safer rail infrastructure.
"We believe that industry collaboration is the way to drive higher efficiency and service standards. Network Rail's new alliance model is a great step forward in rail contract procurement."
Jean Bernadet, CEO of TSO and Deputy General Manager of NGE, said: "This project is a very important milestone for TSO and a great opportunity to demonstrate our expertise on track renewals and strong ability to innovate, providing a fresh look from several countries where TSO is operating.
"TSO is fully committed to delivering major improvements to Britain's railways, together with Atkins, Balfour Beatty and Network Rail."