Vivarail and Arcola announce emission-free trains for the UK
Vivarail and Arcola Energy have announced a long-term collaboration to bring emission-free trains to the UK with new hydrogen cell technology.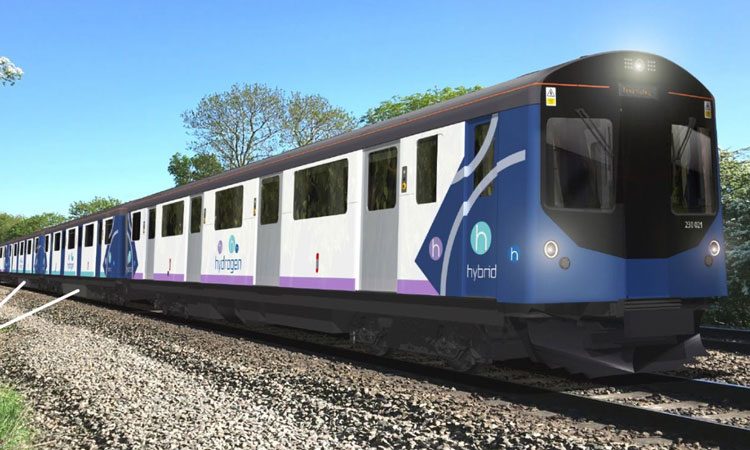 The companies share a determination to help de-carbonise the UK's transport system. Vivarail has already designed and run an emission-free battery train whilst Arcola lead the market in supplying power systems for efficient fuel cell electric vehicles, primarily buses, to the UK. Working together the companies will develop a hydrogen/battery hybrid train.
The proof of concept train is likely to begin testing at Vivarail's main manufacturing facility in late 2019/early 2020 and will be based on the technology already developed for unit 230002, Vivarail's battery train.
The concept train will consist of two carriages, one housing two battery modules and one with fuel cell and tanks, all will be underneath the train to take advantage of Vivarail's unique modular power pack design. The Class 230 trains are designed to accept different power sources, Vivarail is currently building a fleet of diesel/battery hybrids for Transport for Wales which will share an almost identical design to the hydrogen train.
The concept train will be used to demonstrate the system capability and test performance. Vivarail's production hydrogen trains will consist of four-cars, with two battery driving motor cars and two intermediate cars housing the fuel cell and tanks.
Arcola has a 10-year track-record in fuel cell R&D and system engineering and has an unrivalled global network of suppliers as well as extensive experience in developing zero-emission commercial vehicles.
Arcola's knowledge of fuel cell technology and Vivarail's expertise in designing novel green traction solutions give the partnership an edge in bringing next generation hydrogen trains to the UK.
Adrian Shooter, CEO of Vivarail, said: "I'm delighted we will be working with Arcola, a company with very similar values to our own. We are both energetic and fast-moving organisations and believe that zero-emission trains are possible today and will be vital in helping the UK meet its carbon reduction targets. I look forward to seeing new clean, green trains on the network in the near future."
Ben Todd, CEO of Arcola Energy, said: "We are excited to be collaborating with a fast-growing, innovative company like Vivarail that also shares our passion for making a difference on emissions and carbon reduction. The proof of concept train is a great opportunity to see our technology, already proven in road transport, make the transfer to rail to help accelerate the adoption of zero-emissions and low carbon trains."