GBRf celebrate launch of state-of-the-art simulators in Peterborough
New simulators at Peterborough training facility will train new recruits to see how they respond to real-life scenarios.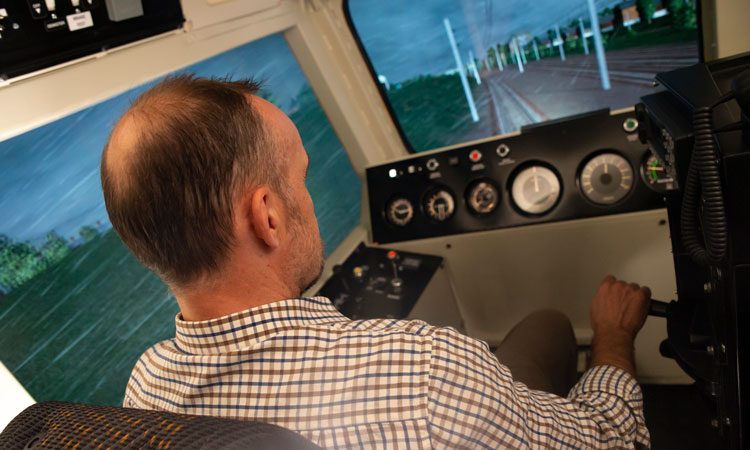 Simulators will be used for training at Peterborough. Photo credit: GB Railfreight (GBRf)
GB Railfreight (GBRf) has celebrated the unveiling of two new cutting-edge simulators with a launch event at their recently renovated Peterborough training facility. As the UK's first and only full cab freight European Traffic Management System (ERTMS) simulators, GBRf is proud to be leading the way on digital innovation within the UK rail training sector. 
GBRf were delighted to be joined by outgoing Mayor of Peterborough, Chris Ash, who assisted Managing Director John Smith in cutting the red ribbon to officially declare the new facility open. There was a race by attendees to be the first to try out the new simulators, which will be used for driver training going forward. All attendees left thoroughly impressed by the true to life simulator experience. 
Speaking at the event, GBRf Managing Director, John Smith, emphasised the way in which the simulators will revolutionise driver competency. He said: "These simulators come out of a desire to change the way in which we manage the competency of our Train Managers, who drive our trains on a day to day basis. 
"At the moment, when you train someone to drive a train, they do a lot of classroom work, are then mentored in the cab, and then they're on their own out there. But every year we have to check they're still doing the job correctly. These simulators allow us to trial a number of circumstances in a very realistic environment that allows trainers and assessors sitting outside the cab to see how drivers react in different circumstances. 
"The ability to continually ensure that the competency of the individual is still full is massive, as well as testing how people react to different circumstances in a safe environment. The simulators will really develop how competency is managed."
Corys, GBRf's engineering partner in the project added: "We would like to thank GB Railfreight for giving us the opportunity to collaborate on the simulator project. It was novel for us to transform these two old locos into state of the art training simulators, we don't have that many projects like this and it has run very well…we have a very successful working relationship and we look forward to supporting you [GBRf] long term."
The new £1 million simulators represent the first stage in a huge programme of investment by GBRf in Peterborough, with a new regional HQ planned, along with the development of surrounding yards for operational purposes.