Bombardier and Hitachi to supply Italy with new Frecciarossa 1000 trains
Trenitalia has ordered 14 Frecciarossa 1000's for operation within Italy, which have tops speeds of 360 km/h, the fastest ever service high-speed train in Europe.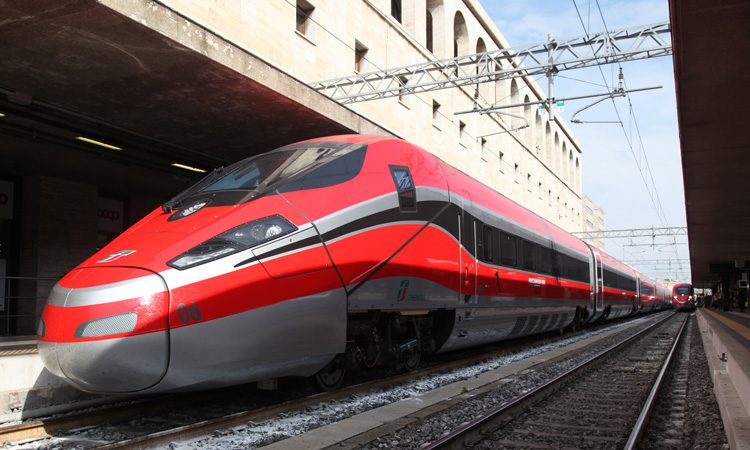 Hitachi Rail SpA and Bombardier Transportation, in a partnership expected to involve company participation of 60 per cent and 40 per cent respectively, will supply 14 Frecciarossa 1000 (Red Arrow in English) very high-speed trains to Trenitalia (Italian Railways), as well as a ten years maintenance service agreement for the new trains. The overall value of the contract is around €575 million with the Bombardier's share valued at €233 million and the Hitachi's share valued at €342 million.
Maurizio Manfellotto, CEO at Hitachi Rail SpA and Group COO Service and Maintenance Hitachi Rail, said: "We worked closely with Trenitalia to deliver a train which has dramatically enhanced the performance and customer experience of the Italian high-speed rail network. The Frecciarossa 1000 is a perfect example of how suppliers and customers working together towards a common goal can deliver for passengers. This order for 14 new trains and the related maintenance services are proof of the success we have achieved."
Luigi Corradi, Managing Director, Italy, Bombardier Transportation, said: "As a full solution provider, Bombardier is looking forward to demonstrating continued excellence in the Italian rail market, supporting Italian customers in the realisation of their long-term mobility plans, across a range of speeds and vehicle sectors, strengthened by our partnership approach."
Giuseppe Marino, Corporate Officer Hitachi Ltd and Group COO Rolling Stock Hitachi Rail, said: "Expanding the Italian high-speed train fleet is an achievement we are proud of. Developing new and innovative rolling stock is a challenge but this order for 14 new Frecciarossa 1000 shows we have realised a highly successful and competitive train. We are pleased to also be working on a new generation of modern regional trains for Italy and on our ground-breaking trams."
Marco Biffoni, Head of Sales Italy for Bombardier Transportation, said: "With this order for 14 high-speed trains deriving from the V300ZEFIRO platform plus maintenance services, we are delighted that Trenitalia has put its confidence in Bombardier and Hitachi once again, a proven partnership now also bidding for projects in the United Kingdom. These high-comfort, high-technology and high-speed trains have already proven to be very popular with Italian passengers and this order highlights our continuing leadership in the exciting high-speed market segment."
As with the current Frecciarossa 1000 fleet, all 14 of the new very high-speed trains will be built in Italy. The Frecciarossa 1000  has set new standards in performance, operating efficiency and passenger comfort. 
Each train has a total length of around 200 meters, capacity for around 460 passengers and is capable of commercial speeds of up to 360 km/h. State-of-the-art aerodynamics and energy saving technologies give the train unmatched operating efficiency. There is Wi-Fi on-board, a meeting room and a bistro area.
Not only is the Frecciarossa 1000 the fastest ever service high speed train in Europe, but it is also the quietest, with minimal vibration. The trains are designed and built in Italy, and operable on high-speed rail networks equipped with multi-voltage technology fulfilling all TSI requirements.