Britain trials solar-powered rail line in effort to develop a greener network
In August 2019, social enterprise Riding Sunbeams switched on the first ever solar panels to directly supply a railway line in Britain with electricity, paving the way for the world's first solar-powered trains.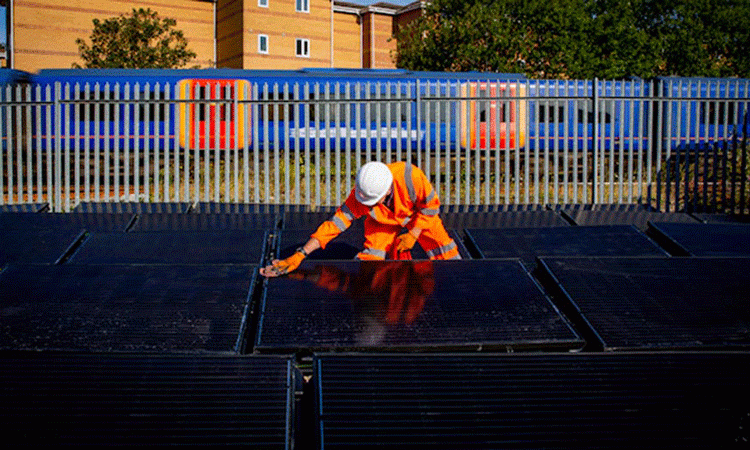 If successful, the innovative scheme will prove solar can safely bypass the grid to provide a direct supply of energy to Britain's railway's traction systems without disrupting train operations – something never done anywhere else in the world.
The trial comes as Network Rail aims to make it easier for other organisations to invest in and build on the railway, leading to a better railway for passengers and freight operators.
Over the next five years, Network Rail hopes to save £3.5 billion through a variety of cost-saving initiatives and they estimate solar energy could provide 10 per cent of the energy needed to power trains on Britain's electrified third rail routes, mostly found on tracks in the South East of England.
The solar project, funded by the Department for Transport through the First of a Kind Round 2 competition and delivered by government-backed InnovateUK, follows a study by Climate Action and Imperial College London's Energy Futures Lab. It showed that connecting solar panels directly to rail networks could meet a significant share of their electricity needs.
Crucially, the research also found renewable power could cost less than electricity supplied via the grid today – without the need for public subsidy.
The 30kWp solar test unit is made up of approximately 100 solar panels, also known as a solar array. The unit is connected to an ancillary transformer on the Wessex route's traction system, with energy from the panels set to power signalling and lights.
The team are also gathering electricity demand data from six potential community solar sites in the South of England. They will use all this data to work out how to plug in much larger groups of solar panels to power trains.
By the end of 2020, Riding Sunbeams hopes to build and connect the world's first ever full-scale community- and commuter-owned solar farm to Britain's railway. 
The solar rig was connected to the railway line at a site in Aldershot, Hampshire, where lineside communities will eventually have the chance to invest in these so-called solar traction farms – Riding Sunbeams aims to encourage local investment in the schemes as well as local community benefit funds.
Leo Murray, Director of Riding Sunbeams, said: "Matchmaking the UK's biggest electricity user, the railways, with the nation's favourite energy source, solar power, looks like the start of the perfect relationship. Helping to get the railways off fossil fuels in this way will cut running costs and benefit local communities at the same time as helping to tackle the climate crisis."