London Overground staff receive deaf awareness training
Over 350 Arriva Rail London employees will complete a training course to improve the travelling experience of passengers on the London Overground who are deaf or hard of hearing.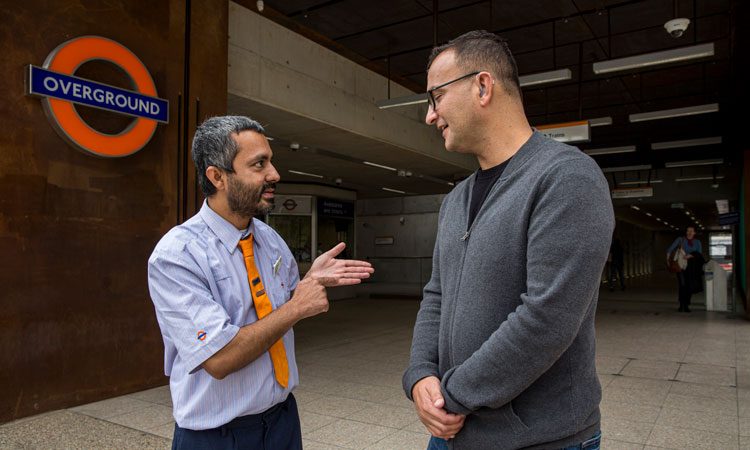 ARL, which operates the London Overground on behalf of Transport for London (TfL), has developed a comprehensive training programme alongside Signly, Deafax and DCAL, University College London's Deafness Cognition and Language Research Centre. The development of the programme has been funded by the Rail Safety and Standards Board (RSSB) and hopes to open up the world of travel for deaf people and those with a hearing loss in London, giving them the confidence and support they need from staff to make safe journeys on the London Overground.
It is estimated there are 11 million people who are deaf or have a hearing loss in the UK, which equates to around one in six people. There are also 151,000 British Sign Language users in the UK – many of whom travel by rail and have difficulty hearing and understanding announcements in stations.
Tim Scannell, a frequent rail user, said: "As I am deaf, I can't hear station announcements over the tannoy. I get nervous about asking other passengers for journey advice, especially if there are changes to the service. Being able to communicate more easily with station staff would help to reduce my anxiety."
In total, 350 ARL employees will embark on a specially-designed deaf awareness programme to help address these accessibility issues. The course will bolster the current disability awareness training, as part of the customer service induction. Employees will be fully trained and ready to assist passengers by the end of 2019.
Stella Rogers, ARL's Customer Experience Director, said: "We are equipping our stations teams with the skills we need to support our passengers who are deaf or have a hearing loss. We are proud to play our part in giving customers the confidence to travel, providing an inclusive and accessible railway for London."
Rory O'Neill, TfL's General Manager for London Overground, said: "This is a great initiative by ARL, which we fully support. We are committed to London's transport network being accessible for everyone, and giving frontline staff the tools and training to support customers who are deaf or have a hearing loss is an important way we can deliver a first-class service on the London Overground."
Delivered by a deaf trainer, the training programme has been inspired and shaped by deaf people and those with a hearing loss, as well as station teams who assist passengers every day who are deaf or have a hearing loss; their shared experiences have been vital in creating an inclusive programme that will ensure everyone feels safe and secure whilst travelling on the London Overground. Training will cover a range of topics from deaf culture and identity, to degrees of deafness, communication barriers, lip reading, fingerspelling and techniques for assisting and communicating with customers who are deaf or have a hearing loss.
Professor Bencie Woll, Founder of DCAL, said: "Improving communication is the key to making rail travel accessible to people who are deaf or have a hearing loss. The deaf awareness training provided by the team can completely turn around the deaf travel experience."
Mark Applin, co-Founder of Signly, said: "The enthusiasm of ARL colleagues at all levels throughout this project has been overwhelming. Their shared insights enabled the creation of rail-specific training tool that could make a real difference to the passenger experience for people who are deaf or have a hearing loss. And even better, it seems to have an ignited a passion among many colleagues to learn more."
Helen Lansdown, CEO at Deafax, said: "The opportunity to develop and then deliver the bespoke SignIt toolkit with frontline staff at ARL is a significant step forward in deaf Awareness and access. Not only is their ability to learn from a Deaf trainer, and then translate that learning into action on trains and in stations impressive. It is a real tribute to their motivation and innate desire to do the very best they can to meet the needs of deaf people and those with a hearing loss."
Agata Pogodzik, RSSB Senior Project Manager, said: "The deaf awareness programme truly empowers frontline staff by giving them the tools and confidence to provide support to passengers who are deaf or have a hearing loss. This inspirational project, funded through RSSB's Rail Accessibility competition, will help open up the world of train travel for deaf people in the capital."