A review urges the North and Midlands to 'take control' of HS2 and NPR
A report by the Northern Powerhouse Independent Review into HS2 says it is important for the North and Midlands to take control of their high-speed rail network and that cancelling the project without viable alternatives will not deliver transformational benefits to the UK economy.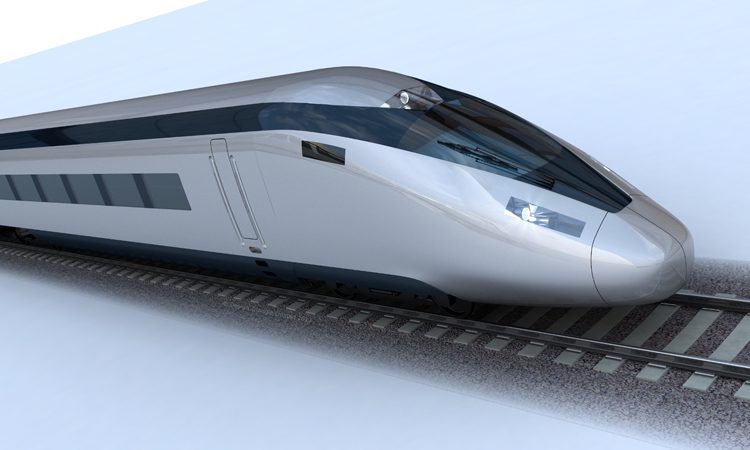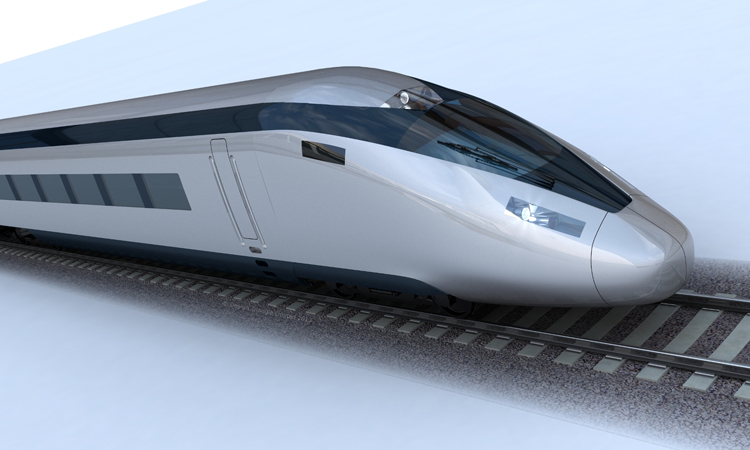 Computer-generated visual of what the HS2 trains could look like. Copyright: HS2 Ltd
Created to inform the Government-commissioned Oakervee Review of HS2, which will soon report to the Department for Transport (DfT) on the future of the high-speed rail project, the Northern Powerhouse Independent Review has recommended the establishment of 'HS2 North' – a special organisation to work with the private sector to integrate HS2 and Northern Powerhouse Rail (NPR).
The report also states that there will be a 20 per cent increase in the transformational economic impact to the North of delivering NPR along with building HS2, with £1 in every £5 generated from building a new East-West line as a result of long-distance journeys onto HS2.
It also warns that only by investing in a new, integrated high-speed network can the historic North-South divide be tackled; upgrades or scrapping HS2 will have none of the prerequisites to tackle the UKs geographic imbalance.
Furthermore, the report identifies parts of the new and upgraded line network that can be delivered now, including connecting Northern cities to each other. It states that the North will not accept waiting until 2040 for HS2 to connect Northern cities to Birmingham, London, Newcastle and Edinburgh.
The establishment of HS2 North
The Northern Powerhouse Independent Review is recommending the establishment of HS2 North; a special purpose vehicle (SPV) on the model of the Olympic Delivery Authority. This would make it arms-length from government, with private sector delivery partners and Network Rail, overseen by Transport for the North to ensure HS2, NPR and related upgrades are combined efficiently and with maximum value. To start, it is urged that this new delivery body must pull together the comprehensive benefits to all the city regions and towns of the North, which the existing analysis which the Oakervee Review is based on misses out, along with the way of estimating the benefits ignoring economic rebalancing being possible or having any value to the country.
The true scale of benefits to parts of the North stated in the report are:
The potential aggregate GVA prize for the North equates to £1,000 billion between 2035 and 2050. If transport investment unlocks just 10 per cent of this prize it would enable £100 billion
In Leeds, by 2050 HS2 will create 50,000 new direct jobs adding £54 billion GVA to the regional economy
In Greater Manchester, by 2050 HS2 will create 60,000 new jobs around Piccadilly and Manchester Airport with an additional 37,000 jobs around Crewe station
In Liverpool, by 2050 HS2 direct services via NPR will create an additional 24,000 new jobs.
Chris Oglesby, member of the Northern Powerhouse Independent Review into HS2, said: "Our report highlights that there are a number of significant benefits of HS2 that have been ignored to date in its viability analysis. HS2 will be transformational in equipping the North to thrive in the Fourth Industrial Revolution. It delivers massive economic benefits by increasing capacity and speed both between our cities and into them on both new and existing lines. This, in turn, will increase access the labour markets for high growth industries and drive productivity; as much in enabling new jobs as improving existing ones. It will drive regeneration in our cities and towns around the stations and beyond, whilst the stations themselves will also be economic engines in their own right.
He continued: "Our review panel proposes that the North and Midlands must take control of the nation's high-speed network. HS2 and Northern Powerhouse Rail – a major priority of Boris Johnson and his government – are completely interlinked and a joined-up approach is required to both and the upgrades to existing lines. Only by delivering an integrated high-speed network right across the North can a Northern Powerhouse vision be truly realised. Further delays and uncertainty are hugely damaging to North and the country as a whole."
Sir Howard Bernstein, member of the Northern Powerhouse Independent Panel Review into HS2, said: "Northern bodies and elected leaders have called for greater devolution of oversight over their rail networks – as part of our bold new view of structures, further discussions will need to take place between civic leaders and central government on democratic structures to ensure accountability. The North deserves better and will continue to campaign to ensure we secure a proper share of national resources and meet our ambitions so that we achieve our full economic potential."
Henri Murison, Director of the Northern Powerhouse Partnership, said: "To truly rebalance Britain, by building the Northern Powerhouse, we need substantially increased capacity on our rail network. The benefits of Northern Powerhouse Rail and HS2 together are greater than either scheme alone and cancellation of either east and/or western leg without a proven and credible alternative could leave us with no way to secure the economic competitiveness we need, which alongside productivity gains, is a pre-requisite of rebalancing the British economy."
Midlands Connect Director, Maria Machancoses, said: "This report makes a compelling case for the delivery of HS2 in its entirety, especially the eastern leg connecting the West Midlands, East Midlands and Leeds. It also highlights the need for much greater regional involvement in the planning and delivery of HS2, so that it is properly integrated with regional upgrades like Midlands Engine Rail and Northern Powerhouse Rail.
"We strongly agree that the benefits of HS2 to the Midlands and the North have been grossly underestimated and cannot be properly quantified within the short scope of the Oakervee Review. The new, compelling evidence submitted from both regions must now be fully analysed before any decisions over HS2's future are made."
Maria continued: "If the government is committed to rebalancing the economy and growing the Midlands Engine and Northern Powerhouse, then transforming intercity links between our regions must be an economic imperative, and HS2 supported as the only meaningful vehicle through which to achieve it. Suggestions that the Eastern leg between the Midlands and Leeds is in doubt threaten to undermine the government's commitment to investment in regional infrastructure. Unless we deliver HS2 Phase 2b, the East Midlands will continue to endure substandard connections to both the North and the West Midlands and another generation of underinvestment.
"Of course, the HS2 project can be improved. Midlands Connect's own evidence has identified brand new direct connections between Birmingham and Nottingham and Leicester and Leeds. But cancelling or descoping the project without a proven or credible alternative leaves the government with no path towards the 'Infrastructure Revolution' we have been promised."
The Northern Powerhouse Independent Review, overseen by a panel of respected leaders, is based on an extensive review of the economic evidence, published alongside economic analysis by Steer Economic Development.