Hitachi Rail chosen to build new InterCity trains for Avanti West Coast
First Trenitalia has awarded British-based train manufacturer Hitachi Rail a contract worth more than £350 million to provide and maintain 23 new InterCity trains for Avanti West Coast services.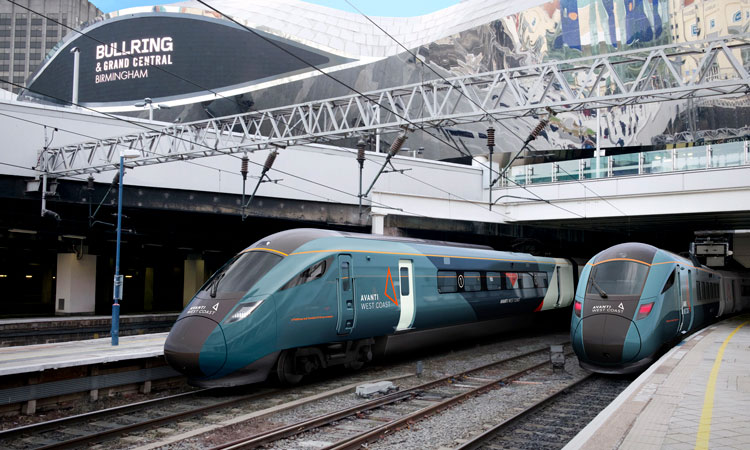 Bringing additional capacity to services along the West Coast Main Line and in North Wales, the new, state-of-the-art InterCity trains will start operating in 2022 and will be a mix of 10 seven-carriage electric trains and 13 five-carriage bi-mode trains, with the ability to switch seamlessly between electric and diesel power. To be built at Hitachi Rail's County Durham factory, the electric trains will operate between London, the West Midlands and Liverpool while the bi-mode version will serve the London to North Wales route. They will be part of the fleet operated by the new InterCity operator, to be known as Avanti West Coast, that began operating on Sunday 8 December 2019.
These are fast-accelerating 125mph trains which draw from their Japanese bullet train heritage. As a result of their modern design, passengers will enjoy a quieter journey compared to the diesel-only trains they will replace. The new trains will have better and more reliable free Wi-Fi, at-seat wireless inductive charging for electronic devices, plug sockets and USB slots; a brand-new catering offer and a real-time passenger information system that can advise customers of connecting rail services.
There are 453 seats on a seven-car service and 301 seats on a five-car service increasing capacity compared to the Class 221 Voyager trains they replace (which have 258 seats).  The seven-carriage version of the electric trains will have similar numbers of seats to a nine-carriage Pendolino, owing to the longer 26-metre carriages of the Hitachi trains.
Cleaner and greener
Due to the high environmental standards of their diesel engines, the new trains are cleaner and more efficient than the trains they are replacing. Particulate matter emissions are reduced by more than 90 per cent and NOx emissions are reduced by more than 60 per cent compared to the engines currently in service. The introduction of these new trains will help to support the UK's drive for a cleaner, greener environment. Bi-mode technology is an important first step in decarbonising rail and achieving 'no net emissions'.
By running on electric rather than diesel power for much of the route is expected to reduce CO2 emissions by around two-thirds across the franchise. Passengers using locations such as Birmingham New Street and Glasgow Central will benefit from cleaner air within the station due to fewer diesel train services.
British-built
The new trains will be built at Hitachi's factory at Newton Aycliffe in north-east England, supporting thousands of jobs across the country. Hitachi Rail prioritises UK suppliers whenever possible, including with servicing and maintenance operations. This approach has resulted in Hitachi Rail spending more than £1.6 billion with UK suppliers since 2013. To date, wheelsets have come from Manchester; windows from Newcastle, door handles from Leeds, and overhead panels from County Durham, amongst many other parts made in Britain.
FirstGroup is introducing new rolling stock to improve our customers' journeys across all its train companies – Great Western Railway, Hull Trains, South Western Railway and TransPennine Express. Together with this new announcement, this represents an investment of £1.8 billion in more than 1,000 vehicles.
Commenting on the new trains contract, Steve Montgomery, Managing Director, First Rail, said: "These new trains will help us really improve travel for passengers with more services, more seats, a better journey experience, enhanced catering and added comfort."
Ernesto Sicilia, Trenitalia UK Managing Director, said: "We are pleased to announce this new fleet which highlights our commitment to innovation and desire to constantly improve our services. We are delighted to provide more efficient and modern trains which are sustainable and environmentally friendly, reducing CO2 emissions by 61 per cent, including new comfortable seats for an improved customer experience."
Financed by Rock Rail West Coast
The investment in these new trains is being financed through Rock Rail West Coast, a joint venture between Rock Rail and Aberdeen Standard Investments. Rock Rail West Coast will own the trains and lease them to First Trenitalia. As with Rock Rail's previous new rolling stock deals, debt will be provided by institutional investor organisations (pension funds and insurance companies).
Mark Swindell, Chief Executive Officer, Rock Rail and Director, Rock Rail West Coast, said: "Rock Rail is delighted to be working with First Trenitalia and Hitachi and our institutional investor partners to bring these trains to the region and deliver step changes in the travelling experience for so many rail passengers across the country.
"This new state-of-the-art Hitachi fleet represents Rock Rail and Aberdeen Standard Investments' fourth new rolling stock deal in the UK, and across all deals combined sees investment by the institutional investor sector of just under £2.5 billion in the UK railway. This long-term, highly competitive funding enables significantly enhanced value for money to rail passengers and tax payers over the life of the trains, along with significant improvements in passenger, environmental and operational features."
Andrew Barr, Group CEO, Hitachi Rail, said: "Based on Japanese bullet train technology, our new trains have proven to be the modern InterCity train of choice, increasing passenger satisfaction wherever they run. We're delighted to continue our excellent relationship with FirstGroup and Trenitalia, for whom we've delivered hundreds of trains across Italy and the UK. This new order, which will be built at our factory in the North East, is another vote of confidence in the success of our trains, which are both green and reliable."
The contract also includes an agreement for aspects of the 23 new trains to be maintained by Hitachi Rail. First Trenitalia have also signed a Maintenance Agreement with Alstom enabling the fleet to be maintained by a joint team from Hitachi and Alstom at the existing Oxley depot in Wolverhampton, supporting highly-skilled engineering jobs.