Verona to Lübeck direct train introduced by ÖBB Rail Cargo Group
The bi-weekly connection between Verona and Lübeck will work to relieve the stress of transit traffic and reduce carbon emissions.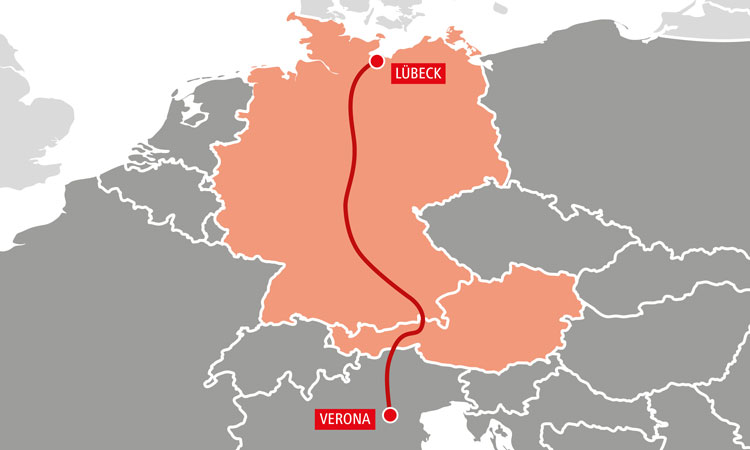 Credit: ÖBB
TransFER Verona-Lübeck, a service offered by the ÖBB Rail Cargo Group (ÖBB-RCG), has announced that it will be providing a bi-weekly non-stop connection between Verona and Lübeck. The new connection will serve the Northern Italian area, with the Hanseatic city, and the North-East European Region. 
The Port of Lübeck is Germany's largest Baltic Sea port and acts as a central transloading hub, linking the economic centres of South, Central and North Europe with the rapidly developing Baltic Sea region. A major part of the total shipments that are transported via Lübeck come from Scandinavia, and so customers are now able to benefit from seamless connections across ÖBB-RCG's international network. 
Due to these circumstances, ÖBB RCG was able to expand the scope of its service and strengthen combined transport opportunities between Italy and Northern Germany on the available railways, connecting large and significant cities.
With the new Verona-Lübeck route's intermodal train connection encouraging a shift from road to rail, CO2 emissions are expected to reduce significantly due to the the transfer of freight to rail relieving the burden of truck traffic and noise pollution on the surrounding environment.
Shifting from transporting tarpaulin, refrigerated trailers, containers and tank containers by road to a bi-weekly roundtrip by rail is expected to relieve heavily affected transit countries, like Austria, of the 6,144 truck journeys along the equivalent route. 
ÖBB-RCG is also set to make a contribution to climate protection and is making a positive impact on curbing the vicious cycle of transit traffic that burdens the Brenner route.
Related organisations
Related regions