ŽSSK reveals RegioPanter EMU for the Žilina and Trenčín region
Representing a €160 million investment from ŽSSK, the new EMUs will provide passengers with a wide range of modernised benefits.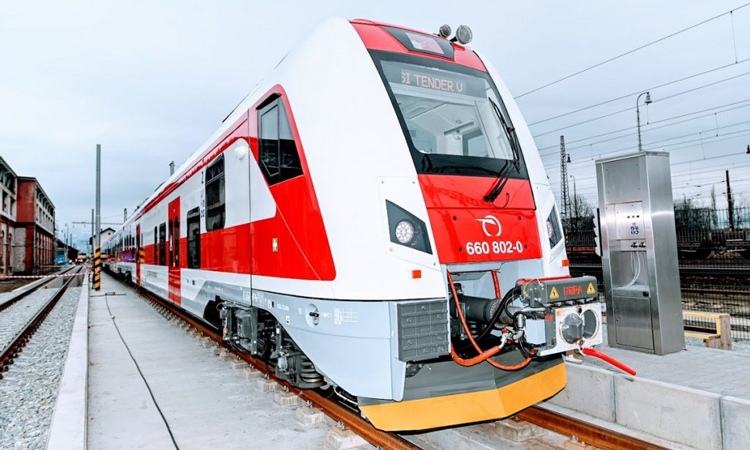 Credit: ŽSSK
Slovakia's national passenger operator, ŽSSK, has unveiled its new comprehensive electric multiple-unit (EMU), the Class 660 RegioPanter, which was manufactured and provided by the consortium of Škoda Transportation and ŽOS Trnava.
The 25 unit order, representing a €160 million investment, consists of 13 three-car EMUs which are capable of accommodating 247 seated and 212 standing passengers – and 12 four-car trainsets, with a total capacity of 343 and 285 standing passengers. The estimated delivery period is between 2020 and 2022.
Following the reveal, Chairman of the Board of Directors and CEO of ŽSSK, Filip Hlubocký, said: "Now the electrical units are still waiting for a several-month approval process on the Railway Testing Circuit and, subsequently, on the lines of the infrastructure manager of ŽSR. We are doing everything we can to get the first passengers on the new train before this summer season."
The new units are set to operate within the Žilina and Trenčín region, serving the Zilina-Cadca, Cadca-Zwardon and Zilina-Liptovsky Mikulas lines. Able to reach a maximum speed of 160km/h, the new trainsets benefit from multiple features, including:
Low-floor, air-conditioned units, and central door control
Barrier-free access areas with wide entrance doors and an open-plan interior, which are able to accommodate wheelchairs, strollers and bicycles
A new security camera system, acoustic and visual information system or automatic passenger counting system
Sockets for powering portable devices (laptops and mobile phones) and Wi-Fi connections.
Petr Brzezina, Chairman of the Board of Directors and President of the Škoda Transportation Group, said: "I am very pleased that today we are introducing the first single-storey electric unit for Slovenské dráhy in Vrútky. Passengers will especially appreciate the comfortable seating, electrical outlets, air conditioning and stylish LED interior lighting. The kits will also offer a clear information system with monitors, high-performance Wi-Fi, ample space for transporting disabled people, prams, bicycles and easy and barrier-free access for all passengers."