Amtrak begins high-speed testing of first Acela trainset
The first trainset of Amtrak's new 28-train Acela fleet will undergo testing in preparation for service throughout the Northeast Corridor in 2021.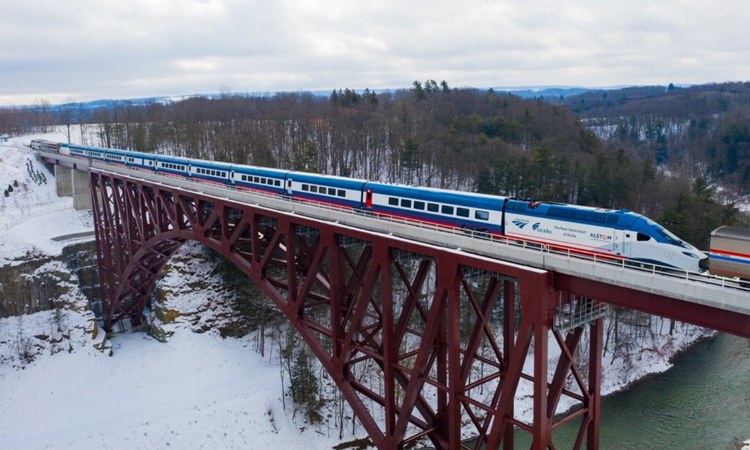 Credit: Amtrak
The first of Amtrak's new Acela fleet – which will consist of a total 28 trainsets – has been moved from Alstom's facility in Hornell, N.Y., to the Transportation Technology Center near Pueblo, Colo, in order to begin high-speed testing in preparation for service throughout the Northeast Corridor in 2021.
Testing of the trainset will span nine months and include the trainset's pantograph, railway dynamics, tilting, traction, slip/slide and wayside protection, brakes, and train control management systems.
Richard Anderson, Amtrak President and CEO, said: "Amtrak is proud to celebrate this major achievement for the new Acela fleet programme, as we are bringing customers one step closer to enjoying the benefits of these new trains. With strong demand for Acela travel continuing to grow, we will test the trains to ensure customers will have safe and reliable service with modern amenities when these trains go into service next year."
The new Acela trains will allow for Amtrak to accommodate an additional 25 per cent of passengers, following the operator seeing a 4.3 per cent increase in passenger traffic in 2019 compared to 2018. As well as an increased capacity, the trainsets include new features such as improved Wi-Fi access, personal outlets, USB ports and adjustable reading lights.
In preparation for the new fleet, Amtrak is currently undertaking a record amount of track and infrastructure maintenance along the Northeast Corridor in order to improve ride quality, increase reliability, and increase overall on-time performance.
Senior Vice-President for Alstom in North America, Jérôme Wallut, said: "Alstom is immensely pleased to partner with Amtrak to deliver Acela high-speed trainsets for service on the Northeast Corridor. We would like to thank and congratulate all of our employees, suppliers and partners who helped make this important milestone a reality. This milestone is another step closer in the realisation of high-speed train manufacturing here in America."