HS2: Continuing to innovate to drive the workforce skills agenda
Kate Myers, Head of Skills, Employment and Education (SEE) at HS2 Ltd, explains how embedding SEE as one of the company's seven strategic objectives is fundamental to the overall project success to deliver the UK's new high-speed rail network.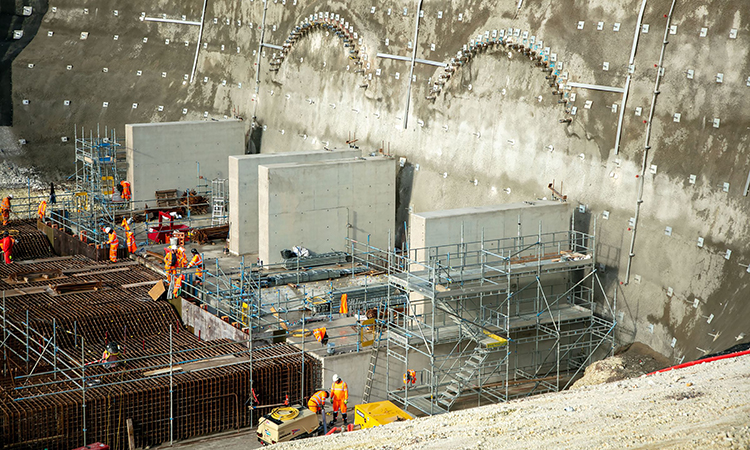 Britain's new high-speed railway, HS2, will be the spine of the country's low-carbon transport network. It is the first new major railway connecting the Midlands and the North for over a century. HS2 not only delivers high-speed connections between towns and cities – including Birmingham, Crewe, Manchester, Leeds and Glasgow – it is also the largest upgrade to local rail services in generations.
2020 has been a significant year for the project. In September, the Prime Minister officially started construction of the West Midlands to London section of the railway and work is now well underway at 240 sites. Approximately 13,000 people are part of our growing workforce, helping to deliver Europe's largest engineering project, and our station and construction partners expect to create 22,000 new roles to deliver their sections of the route. Coupled with £12 billion of supply chain opportunities, across an estimated 400,000 contracts, HS2 is spearheading new opportunities, helping to stabilise the engineering, manufacturing and construction sectors and boost the economy at this challenging time.
Skills, Employment and Education Strategy
2020 also marks two years since the launch of our Skills, Employment and Education (SEE) Strategy, which sets out how we deliver a comprehensive and practical programme to boost skills, training and employment. The strategy is integral to ensuring we have a skilled workforce in place to deliver our 20-year construction programme, which spans all three phases of the project.
It also ensures that those from disadvantaged backgrounds and under-represented groups, as well as local people, benefit from the thousands of job opportunities that HS2 will create. Our Jobs Brokerage platform, which launches in early 2021, will help us to achieve this. By bringing together all of our contractor vacancies into one single portal, we're providing easy access to opportunities to work on the project.
Central to the platform's success is our embedded partnership model with local authorities, charities and specialist employment support agencies along the route of the new railway. They will help us to reach out to the long-term unemployed and those seeking a career change or new opportunity.
The Jobs Brokerage launch is timely. With unemployment figures at a record high, there are thousands of people out of work with the skills and experience that we need. We're working closely with our partners to reach out to those hit hardest by the pandemic and engaging those within the wider transport sector who are impacted, including Heathrow Airport.
Investing in future talent
Our drive to create and upskill our workforce begins with early engagement."
But our drive to create and upskill our workforce begins with early engagement. The stop-start nature of major infrastructure in Britain has contributed to leaving us with a huge skills shortage. One quarter of the UK's rail engineers are now over 55 and are predicted to retire in the next 10 years, so we know that investing in future talent is crucial. Today's secondary school pupils, and those facing choices over whether college, work or university is the right path to take, are the ones that could be playing a role in bringing the full HS2 route to fruition over the next 20 years. 
That's why we have a dedicated education team, who work closely with primary and secondary schools to deliver workshops which inspire young people about what's possible. Our curriculum-based activities highlight to pupils how STEM (science, technology, engineering and maths) subjects link to the wide-ranging job roles that projects like HS2 create. So far, we've delivered more than 160 STEM workshops in schools along the route of HS2, engaging with over 8,500 students aged seven to 14. That early engagement has contributed to us welcoming 160 students onto work experience placements, which subsequently inspired some of our first cohort of apprentices to join the project.
Our long-term investment is helping to create tomorrow's workforce. We've now reached the 400 apprentices milestone and a number of those who joined us in 2017 have gone on to secure permanent roles. Like 21-year-old Chris Sadler, from Tamworth. Chris joined as a Project Management apprentice and is now Assistant Commercial Manager within HS2's land and property team. Many others have followed in his footsteps and are now benefitting from long term careers in the sector.
We committed to creating 2,000 apprenticeships and we're on track to achieve that.
We committed to creating 2,000 apprenticeships and we're on track to achieve that. SEE requirements are included in more than 30 of HS2's major contracts – including a commitment for our four main works construction partners to ensure that four per cent of their workforce are apprentices. This is how we will ensure that the project creates a lasting skills legacy – by bringing our contractors and partners with us on our journey. 
Supporting a diverse range of people into employment
We've also supported more than 575 previously out-of-work people into employment. Innovative partnerships have contributed to a range of niche programmes which are helping us to address the gender gap in our sector and improve access to skills and employment opportunities – including for the homeless. 
Our Women into Construction programme, a six‑week pilot combining hands-on work experience and practical training, allowed us to engage women who had never considered a career in the sector. Within six weeks of completing the course, seven of the 15 participants went on to secure employment. Thirty‑five year-old Jade, from Handsworth in Birmingham, was previously unemployed. She went on to secure a full-time role with Effiage-Kier, working on HS2's Phase One route, providing mapping solutions. Thirty-one-year-old Teena, from Wolverhampton, was offered a five-year, degree-level civil engineering apprenticeship with our tier one contractor, Jacobs.
This partnership model within local communities also saw our early works contractor, the Costain Skanska Joint Venture (CS JV), provide life-changing opportunities for the homeless in London. Their pilot programme with social enterprise Buses 4 Homeless, the first of its kind in the UK, was trialled on the grounds of CS JV's HS2 work site in North Acton. Four fully refurbished London buses were converted to provide temporary accommodation, cooking facilities, wrap around support and a skills training hub. Kevin Williams was one of those who joined the scheme. He is now working as a labourer with our main works contractor, SCS, and is an essential part of the team that is helping to construct 13 miles of tunnels on the HS2 route beneath London. He is one of five formerly homeless people who have gone on to secure full-time work within our supply chain.
HS2 might be a long-term project, but it continues to deliver benefits years before the first trains arrive. For me, and my team, we will continue to innovate to drive the skills agenda and capitalise on our early successes over the next 20 years. HS2 has set out its commitment by embedding Skills, Employment and Education as one of its seven strategic objectives, because we know it is fundamental to the overall success of the project and our legacy. 

Kate Myers has been Head of Skills, Employment and Education at HS2 Ltd since 2016. Her work includes delivering the objectives of the SEE Strategy, ensuring that the supply chain meet their skills and employment requirements and leading the HS2 Education programme. She represents HS2 in industry groups, including the Strategic Transport Apprenticeship Taskforce and BITC's Future Skills and Good Work Taskforce. Prior to joining HS2 Ltd, Kate spent seven years at Crossrail Ltd, where she led engagement and communications on the skills agenda before switching to run the education programme. Kate was seconded to the Department of Transport (DfT) in 2015 to work on the Transport and Infrastructure Skills Strategy. Before Crossrail, Kate worked for Transport for London (TfL) and in the Civil Service.