Smart ticketing on rail
The future of rail in Britain has been at the centre of much political debate recently, especially during the run-up to the General Election on 7 May 2015. Public or state ownership plus whether High Speed Two is a good investment or a waste of money were two of the hot topics. However, what was not in dispute was whether smart ticketing should play a part in any future franchises, or plans to devolve decision-making powers about transport to UK regions. Steve Wakeland, General Manager at ITSO Limited explores the current state-of-play for smart ticketing on rail in the UK…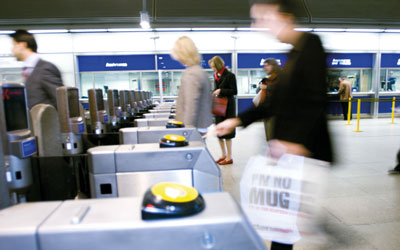 Certainly in Scotland, where Abellio has taken over the ScotRail franchise, smart ticketing is seen as a major draw for enhancing and boosting rail travel.
Building on the existing ITSO-based1 smart ticketing system which Transport Scotland introduced some years ago, Abellio is moving towards a system where passengers will be able to hold tickets for rail, other modes of transport, car parking and cycle hire on a single smartcard.
This will be backed-up by a more integrated, inter-modal fare structure and better journey information.
"Our intention is that ScotRail will play a key role in delivering a truly integrated national transport network," says Abellio. "Our fares and ticketing systems are designed to make it easy for passengers to understand what their journey costs are, and provide flexible payment and travel choices."
Taking technology even further, Abellio Chief Executive Officer Jeff Hoogesteger has been quoted as saying he is considering bringing the Be-In-Be-Out (BIBO) ticketing system in use in the Netherlands over to the UK. This allows passengers to pay for their journeys with a smartcard that is automatically detected by a reader, and doesn't require tapping in and out.
Ironically, although multi-operator multi-modal ticketing has been available in the UK for many years through the 'mag stripe' ticket, smartcard versions are lagging behind.
ITSO smart ticketing on bus, tram and ferry for both concessionary and commercial smart ticketing is mushrooming throughout the UK. It is either in place or there are well-advanced plans to put it in place in many areas.
Major UK cities in the Smart Cities Partnership have signed a concordat with government and large transport operators which commits them to cooperation on delivering interoperable smart ticketing.
But smart ticketing is not an end in itself and neither is the actual public transport journey – unless you are taking the scenic route through, say, the Highlands of Scotland.
Smart ticketing is a tool for helping make public transport more attractive to the customer by reducing the need for cash or queuing to get tickets. It also means you can plan and pay for a journey in advance, getting the best price, but also change it on the move if need be.
For the operators and regional government, it is a tool that can be used to understand existing customers and plan better, more integrated transport that will help boost passenger numbers and access to employment, reduce congestion and stimulate the local economy.
Transport for the North, a new partnership between local and national government, business and Network Rail, is looking at creating an 'Oyster for the North' – a smart ticketing system which, like London's popular Oyster card, will allow seamless, inter-modal and interoperable travel throughout the region with a guaranteed best fare scenario at the end of the day.
From the technology point-of-view, this is already a done deal. Most buses and trams are already smart-equipped, and rail gates are already accepting ITSO smartcards in Bradford, Huddersfield and Leeds stations on the Northern Rail and TransPennine Express routes.
A regional smart ticketing offering will require the introduction of a zonal fare structure agreed by all partners and therein lies the major challenge.
If we look at rail ticketing elsewhere, contactless bank cards are a welcome introduction to London, but these cards can currently only be used for short, low-value journeys so have limited use for higher rail fares.
However, Chiltern Railways is planning a pilot scheme where customers will use their bank cards to pay for medium-distance rail journeys and travel within London under a scheme which offers a best price at the end of the day.
Smartcards using the national interoperable ITSO Specification are already being used to carry pre-paid season tickets and Travelcards worth thousands of pounds, as well as short journey, pay-as-you-go, one-off tickets costing hundreds of pounds.
The Department for Transport (DfT) in the UK has made using the ITSO Specification for interoperable smart ticketing a condition of all future rail franchises. But it wants to see passengers get a variety of payment options, including an option in the future using mobile phones for both contactless bank and ITSO-based transactions.
To that end, the DfT, as well as supporting ITSO schemes, is working with the UK Cards Association – the body representing the card payments industry – to bring contactless payment to public transport country-wide. And it is supporting train operating companies to deliver smart ticketing on rail in the South East through the SEFT (South East Flexible Ticketing) project.
SEFT involves the DfT, TfL (Transport for London) and 12 train operators working together with the support of RSP (Rail Settlement Plan – a division of ATOC, the Association of Train Operating Companies).
Latest statistics show that, in the year to December 2014, 1.1 billion rail journeys were made using these South East operators' rail services – 69% of all rail journeys nationally.
One of the latest advances in this programme is to set up a test environment to try out smart versions of the multitude of ticket scenarios currently available through the various train operators and TfL.
Test gatelines, ticket vending machines and ticket validating machines will be set up and connected to a back office, thus putting both the physical and technical aspects of smart ticketing through its paces. This is expected to be ready to test by summer 2015 and will simulate smart journeys so that any problems can be corrected before the live SEFT interoperable smart ticketing is introduced.
Project Manager, Gavin Candland, said: "This secure and unique environment will allow robust acceptance testing to take place to provide a very high degree of confidence to the industry and the passenger that the quality of travel experience will be good from the first day."
Participants in the SEFT programme are looking at a variety of smart ticketing options. c2c SmartCard holders can load anytime weekday and off-peak returns as well as weekly, monthly and annual season tickets. Travelcards allowing onward travel on TfL's network are also available. Its passengers can also sign up to the 'c2c Live' app which provides a one-stop-shop with everything from personalised journey information to buying tickets, or even paying for car parking.
c2c says the app is the first made by a UK rail company to include nationwide door-to-door public transport journey planning, enabling users to plan a route for any journey anywhere in the UK.
By 2016, customers will also be able to use their c2c Live app to register for automatic refunds, paid out whenever they are delayed for as little as two minutes.
c2c and Barclaycard are also piloting the contactless bPay wristband that is linked to any Visa or MasterCard debit or credit card to make contactless payments. Passengers can use it to pay for their travel into central London on c2c, plus any onward journey on the Tube or London buses, as well as their morning coffee or lunchtime sandwich.
In future, passengers will be able to travel using the c2c bPay band and all forms of contactless payment across the entire c2c route.
Southern Railway's 'the key' card is currently available with single and return tickets, plus weekly, monthly and annual season tickets (with Travelcard) for journeys to London stations from the majority of stations outside of London on the Southern network. There are plans by this Go-Ahead company to introduce more ticket options in future, including flexi-season tickets.
South West Trains (part of the Stagecoach Group) loads weekly, monthly and annual season tickets to its StagecoachSmart cards, as well as anytime and off-peak one-off tickets to any ITSO smartcard. A £50 million deal recently announced will include more smart ticketing opportunities for travel into and around London, a new online booking system for smart ticketing, and new easy to use ticket machines.
The DfT is currently also sponsoring a research project into flexible season tickets. This has the potential for reducing the cost of season tickets, particularly for part-time workers. The impact on rail franchisees' revenues, however, needs to be taken into account because of the way fares are currently structured.
Outside the SEFT remit, London Midland (part of the Go-Ahead Group) has introduced weekly, monthly and annual season tickets on the Snow Hill Line in Birmingham. The DfT recently awarded more than £600,000 to extend smart ticketing across the rail network in the West Midlands using Centro's ITSO Swift card.
East Midlands Trains (part of the Stagecoach Group) loads weekly, monthly and annual season tickets to its StagecoachSmart cards.
Merseytravel's Walrus smartcards can be loaded with 'Saveaway' one-day tickets that can be used on Merseyrail trains, buses and some ferry services in the region and there are plans to widen this multi-operator, multi-modal ITSO smart ticketing project.
New European Standards for payment cards offer the possibility of loading ITSO-style tickets onto a contactless bank card, instead of the customer having to retain two cards. Payment could be made for a specific ticket via the bank card account, but the electronic ticket would be stored in the ITSO area of the same card's chip. This would mean that the customer's card could be checked to ensure there was a valid ticket for travel.
So the work doesn't stop at the English Channel. ITSO's Chief Standards Advisor John Verity is also President of the European Smart Ticketing Alliance which is working with transport operators and mobile network organisations to develop Europe-wide smart ticketing interoperability using a variety of smart media, including NFC-enabled smartphones – the one media which is able to hold ticketing across a range of countries and schemes.
Reference
The ITSO Specification is the national UK Specification for interoperable smart ticketing. ITSO Limited is the non-profit membership organisation which develops the Specification and supports members implementing it in the field.
Biography
Steve Wakeland has worked in technology risk management and information security at various industrial and financial services organisations for over 30 years. He joined ITSO Limited in 2011 as Governance Manager to lead compliance through the implementation of policies and procedures across the ITSO membership. Steve became General Manager of ITSO Limited in January 2015.