Alstom to conduct world-first ATO tests on regional trains in Germany
Alstom's test project, scheduled to begin in 2021, will explore implementing Automatic Train Operation in daily passenger operation of regional trains.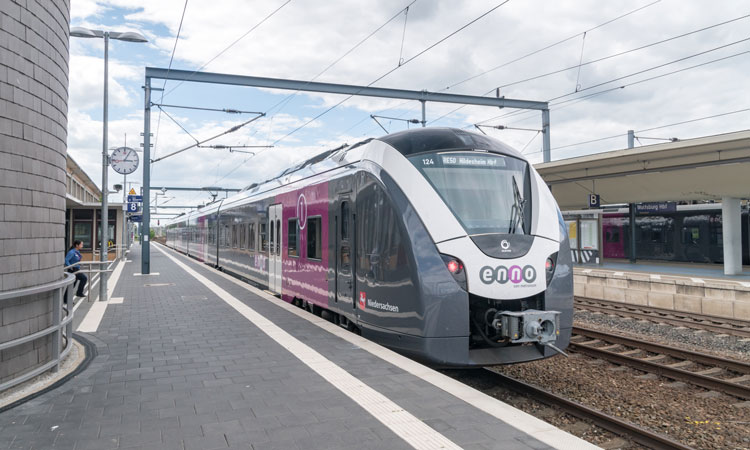 Alstom has announced that it has been presented with the 'Innovation Prize for Regulatory Sandboxes'* by the German Federal Ministry of Economics in relation to a planned test project to implement Automatic Train Operation (ATO) in daily passenger operation of regional trains.
The ATO project will begin in 2021 together with the Regional Association of the greater area of Braunschweig, the German Aerospace Center (DLR) and the Technical University of Berlin (TU Berlin). Alstom has long been a world-leader in ATO for metro systems, but this test will be a world-first for regional passenger trains.
Following the evaluation of the selected tracks and the equipment necessary for automated operation, the testing will be carried out with Metronom Eisenbahngesellschaft – a rail operator in Lower Saxony – and two Coradia Continental regional trains, owned by the Regionalbahnfahrzeuge Großraum Braunschweig GmbH. 
Managing Director of Alstom in Germany and Austria, Jörg Nikutta, said: "In the future, automated trains will optimise regional rail operations, reduce energy consumption and increase ride comfort. In this way, highly automated driving will make a decisive contribution to climate protection and contribute to the development of a modern, attractive railway system. Following the development and successful testing of the world's first hydrogen train – Coradia iLint – Alstom is once again the innovative driver in rail transport with the pilot for regional trains in automated operation."
For this project, two trains based on Alstom's successful Coradia Continental platform will be equipped with a European Train Control System (ETCS) and additional Automatic Train Operation (ATO) equipment. The equipment will enable the trains to operate automatically, testing different grades of automation (GoA): GoA3 in regular passenger operation and GoA4 during shunting. GoA3 describes a fully autonomous train journey, but with an attendant who can intervene in the operation in case of emergency. GoA4 denotes unattended operation with no staff aboard, but with the possibility of remote control. 
Dr. Bernd Althusmann, Lower Saxony's Minister of Economics and Transportation, said: "After the successful operation of the fuel cell train in the Elbe-Weser Triangle, the Alstom site in Salzgitter is once again setting standards for tomorrow's local transportation with this project. The fact that we in Lower Saxony are now able to drive forward the testing and further development of automatic train operation, in addition to the test field for automated and networked mobility on the road, is a decisive step for the future of passenger transport by rail. The new model project promises a high degree of innovation, which we need for climate-friendly and efficient mobility services. Of course, I am particularly pleased that, with Alstom, another company from Lower Saxony underlines our reputation as an important source of innovation."
"ATO is one of the most exciting challenges in the railway industry. It gives us the opportunity to shape and significantly change the operational management of the future. But a lot of research is still needed before this is the case, and I am very pleased to be working with Alstom on this project," said Birgit Milius, Head of the Department of Railway Operations and Infrastructure at TU Berlin.
The findings from this important project will contribute decisively to the further development of the legal and regulatory framework that will oversee Automatic Train Operation. Lower Saxony will be at the leading edge and is confident that automatic regional trains equipped with GoA3 will soon be ready for series production. In executing the regulatory sandbox, Alstom can rely on its extensive know-how in automated metros and various other ATO projects.
*About the 'Innovation Prize for Regulatory Sandboxes' programme
Alstom received the prize for its idea of a regulatory sandbox for highly automated train operation in the category 'Outlook'. Regulatory sandboxes are becoming increasingly important for Germany as a means for innovation. As test environments for innovation and regulation, they serve to gather experience with digital innovations under real conditions. New technologies and business models that are only partially compatible with the existing legal and regulatory framework are to be tested in experimental environments for a defined amount of time.