DfT awards funding to development of UK's first hydrogen-powered train
The £400,000 grant will see the University of Birmingham and Porterbrook develop the detailed final production design and testing of the HydroFLEX hydrogen train.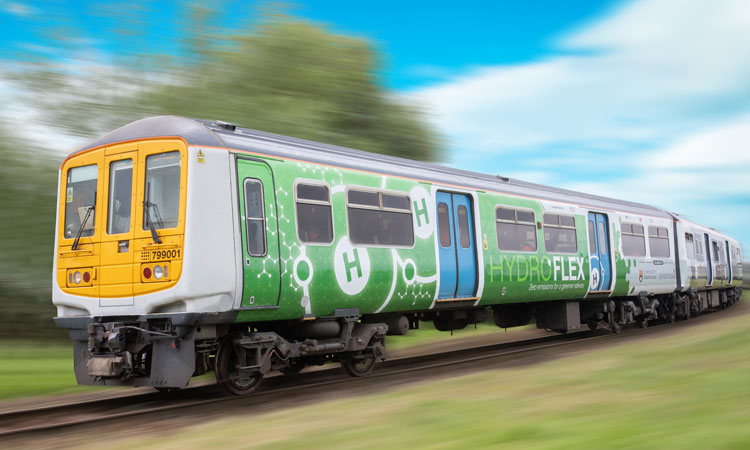 The UK's Department for Transport (DfT) has awarded new funding to the University of Birmingham, meaning that the UK's first hydrogen-powered train (HydroFLEX) is moving closer to commercial operation.
The grant, worth £400,000, is part of Innovate UK's First of a Kind (FOAK) Programme. It will enable the HydroFLEX development team at the University of Birmingham and industry partner Porterbrook to develop the detailed final production design and testing of the HydroFLEX train.
Winning the FOAK 2020 programme marks an important step for the University and Porterbrook, as it brings hydrogen trains one step closer to operation on the UK railway. As well as being the first hydrogen-powered train in the UK, HydroFLEX is also the world's first bi-mode electric hydrogen train.
Director of the University of Birmingham's Birmingham Centre for Railway Research and Education (BCRRE), Alex Burrows, commented: "I am really pleased that our HydroFLEX project has secured further Innovate UK funding to take its development closer to full commercialisation. To achieve the decarbonisation of the railway, we need to develop hydrogen technology, alongside electrification and batteries, as one of the means to get diesel trains off the network. The University of Birmingham has world class R&D capability in rail decarbonisation and I am hugely proud of our team as we continue this fantastic innovation partnership with the industry to accelerate the development of clean technologies for the railway."
Removing diesel from the rail network is essential for the industry to demonstrate its low carbon credentials to the public and the UK government at a time of increasing environmental awareness and action. Hydrogen, along with electrification and battery technology, is one of the three means for delivering a decarbonised railway.
The University is keen to continue its world-leading research in hydrogen – including application to rail –  in order to meet the UK government's decarbonisation agenda for the railway, as well as enabling hydrogen powered trains to enter the UK transport market, for a cleaner and greener environment.
Mary Grant, CEO of Porterbrook, said "I am delighted that Innovate UK is supporting the University of Birmingham as it takes HydroFLEX to the next stage. We have proven this technology works, now is the opportunity for government to truly energise the Green Recovery by creating a real market for a fleet of hydrogen powered passenger trains."
HydroFLEX launched at an industry event in 2019, where more than 500 people travelled by hydrogen power for the first time on the UK railway, including the Chairman and Chief Executive of Network Rail, the Secretary of State for Transport and the Shadow Transport Secretary.
Dr Stuart Hillmansen, Reader in Electrical Energy Systems at the University of Birmingham, said: "I am delighted that our team has received this funding to move towards a full production design of a hydrogen-powered train. It demonstrates that our team can deliver world leading fundamental research, and through partnerships with industry, see the ideas through to practical realisation. This project will have a real impact, and will rapidly accelerate industry efforts to deliver a solution to replace our diesel fleet."