Plans to expand Nightjet services in Europe
SBB and ÖBB are working to increase Nightjet services to 25 European destinations from 2023 in response to rising demand for sustainable travel.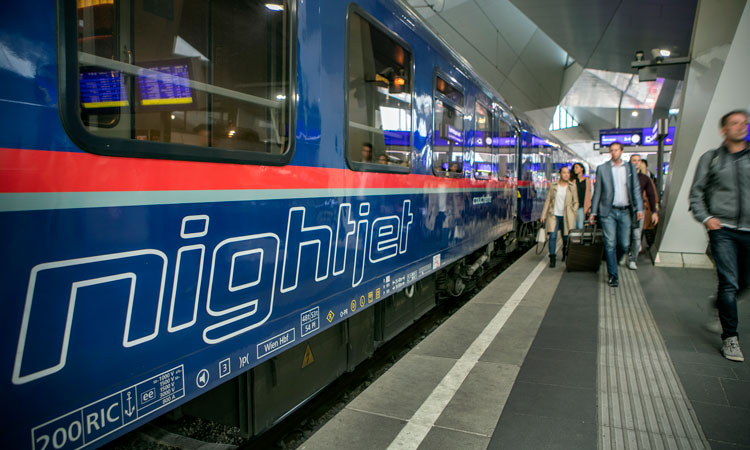 SBB and ÖBB are further expanding their night train services, with plans to increase from six to 10 lines. Preparations are being made for new night trains from Switzerland to Amsterdam, Rome and Barcelona.
This follows a Letter of Intent signed by both companies. The planned expansion, however, is reliant on financial support from the Swiss Climate fund.
The increase from six to 10 lines, would see Nightjet services reaching 25 destinations. From December 2021, plans are for a service running between Zurich – Basel – Frankfurt – Cologne – with the addition of Amsterdam.
From 2023, the new timetable would see a significant increase in capacity on the popular Zurich via Basel to Berlin and Hamburg route. Plans would also see the service reaching Prague via Germany as a portion of the Berlin Nightjet with sleeping cars and couchettes. The new route would also provide a direct connection to Leipzig and Dresden.
In addition, there are plans for a new line connecting Zurich via Bern, Brig, Domodossola to Rome, as well as a daily connection from Zurich via Bern, Lausanne, Geneva to Barcelona. SBB and ÖBB hope this would see French-speaking Switzerland integrated directly into the Nightjet network.
ÖBB is investing in the rolling stock necessary to see these plans come to fruition.
The plans come in response to customer demand for environmentally friendly and sustainable travel. Demand for international night train services rose significantly in 2019, with the number of passengers using night train services from Switzerland increasing by over 25 per cent year-on-year.
According to SBB's own estimates, the existing Nightjet services from Switzerland generate an annual saving of around 50,000 tonnes of CO2 – the equivalent of the average annual emissions of 30,000 cars. SBB, ÖBB and other partner railways are campaigning for transport policies which facilitate night train operations in Europe, to generate a modal shift from road and air to rail.
Related organisations
Related regions