HS1 set to become first UK railway to run entirely on sustainable power
By utilising wind and solar power, HS1 aims to operate solely on renewable energy and has pledged to be fully carbon neutral within a decade.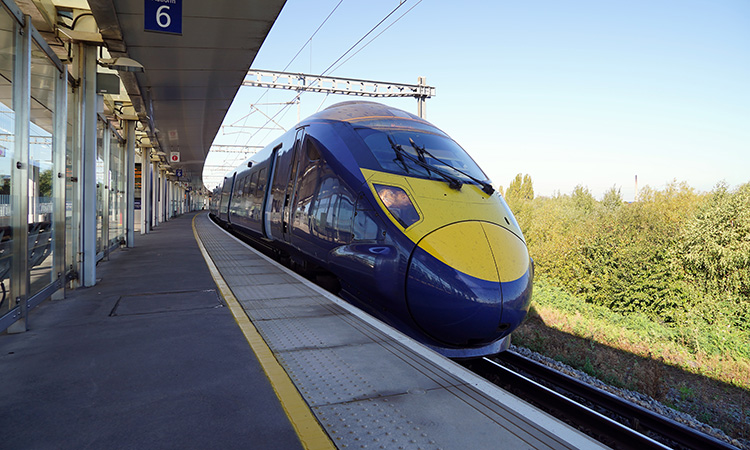 HS1 – the high-speed railway linking London, Kent and the Channel Tunnel – is on track to become the first UK railway to run entirely on renewable energy.
Wind and solar power lie at the heart of a procurement process that is already underway to ensure that the only high-speed railway in the country runs solely on sustainable power.
The rail operator has secured Renewable Electricity Guarantee of Origin (REGO) certificates from its electricity supplier, npower Business Solutions, enabling it to report zero-carbon emissions for the electricity used to power trains and stations.
HS1 Ltd also pledged to be fully carbon neutral within a decade, as it set out stringent new environmental targets in a sustainability strategy focussed on enhancing its reputation as the Green Gateway to Europe.
The company is working with its international operator, Eurostar, and domestic operator, London South Eastern Railway (LSER), to reduce the carbon footprint of every passenger by 25 per cent and to cut energy per train journey by 10 per cent.
The international high-speed line already removes the equivalent of 60,000 short-haul flights, or 750,000 tonnes of CO2, each year. Domestic services on the line remove 6,000 lorries and cars from the roads every year. Almost four million of the 26 million people who use HS1 Ltd's international and domestic services have switched from using cars and aeroplanes, with average carbon emissions up to 80 per cent lower for train passengers than airline passengers over the same distance.
The savings announced by HS1 mirror the UK government's desire to achieve a green recovery for the transport sector post-COVID-19.
CEO of HS1 Ltd, Dyan Crowther, said: "HS1 is the Green Gateway to Europe. The UK's only high-speed railway already delivers phenomenal environmental benefits to the UK and beyond. We are helping consumers reduce their carbon footprint while still enjoying safe, fast and reliable travel at home and abroad. As we recover from the COVID-19 crisis, environmental challenges will move further up the political and public agenda, and HS1 can provide a lasting solution to sustainable travel."
Dyan was speaking at the launch of HS1 Ltd's sustainability strategy alongside Chris Heaton-Harris, the UK Minister of State at the Department for Transport (DfT).
Chris Heaton-Harris, the UK Rail Minister, said: "We are absolutely committed to driving forward a greener, cleaner and more efficient railway, and it is fantastic to see HS1 making such significant strides towards decarbonising their network. Offering passengers more sustainable, greener forms of transport is crucial to achieving our bold and ambitious vision for a net zero carbon transport system by 2050."
HS1 Ltd also pledged that it would send no non-hazardous waste to landfill by 2022 and to recycle 90 per cent of all waste by 2023. It will contribute 700 hours of staff time each year to local community and charity initiatives.