Deutsche Bahn to convert all lighting systems to sustainable LED lamps
As part of its efforts to achieve its 2050 sustainability target, Deutsche Bahn is swapping its incandescent lamps for LED lamps.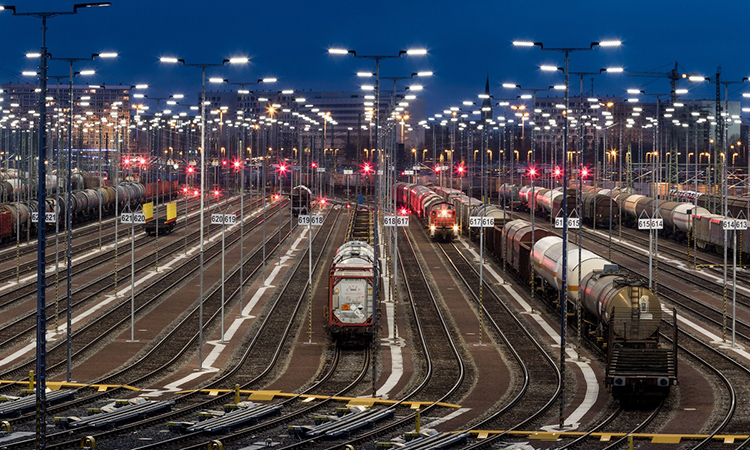 Credit: Deutsche Bahn AG / Kai Michael Neuhold
Deutsche Bahn (DB) is investing in completely 'green' rail operations by 2050 by converting all lighting systems to the more climate-friendly LED.
Thousands of lightbulbs in trains, factories and stations are gradually being replaced by the greener LED lamps. Over 60,000 signal lights and the lights at around 900 train stations have already been replaced, which means that around 80 per cent of the backlit station signs, 60 per cent of the signage systems and half of the illuminated showcases and weather shelters are now benefitting from LED technology.
As a result of these changes, DB will save thousands of tonnes of CO2 a year – around 4,000 tonnes at the 900 stations alone. Due to the significantly longer service life of LEDs – between five and more than 10 years – energy efficiency increases many times over. In addition, DB will achieve savings in both raw materials and financial budget.
The old, unsustainable incandescent lamps will also soon be obsolete in DB's factories. The CO2-neutral ICE plant in Cologne Nippes and the ICE plants in Berlin Rummelsburg, Frankfurt and Leipzig, as well as the island transport terminal in Niebüll, are already equipped with the LED lights. In the S-Bahn workshop in Frankfurt, LEDs that have been installed in the workshop and the track area ensure optimal visibility.
This is just the beginning for DB. In the 53 regional plants across Germany, around 20,000 lamps have been successively replaced since mid-2018. DB also uses sustainable energy consumption in its facilities – for example, in Europe's most modern marshalling yard in Halle (Saale), which is illuminated by over a thousand LEDs.
New freight locomotives and passenger trains, such as the Vectron locomotive or the ICE 4, are equipped with LEDs from the start, and preparations are being made for replacing the lightbulbs in the DB light laboratory in Munich, where a team of specialists test LED lamps from various manufacturers. In the future, only the lamps that meet the highest of DB requirements, function reliably and are easily recognisable will be used.
DB has been campaigning for the environment for years. In addition to climate protection, the focus is also on species protection and noise protection. The DB Group regularly achieves top ratings in international eco rankings, most recently with the top rating, 'A', in the CDP rating.
Related topics
Related organisations
Related regions