SNCF and Deutsche Bahn sign new cooperation agreement
The agreement means that SNCF and DB will pool their knowhow on technologies and digitalisation to build the railway system of the future.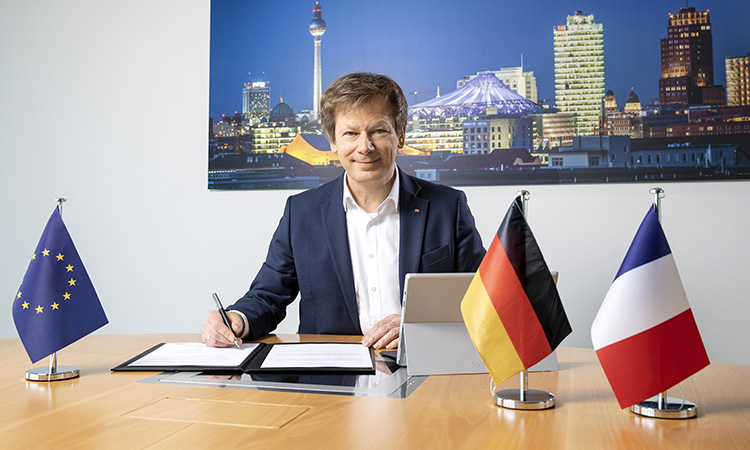 Credit: Deutsche Bahn AG - Dr Richard Lutz, CEO of Deutsche Bahn.
Four years after the start of the digitalisation cooperation between SNCF and Deutsche Bahn (DB), SNCF's President, Jean-Pierre Farandou, and Dr. Richard Lutz, CEO of Deutsche Bahn, together with Pierre Izard, SNCF's General Manager for Technologies and Innovation, and Professor Dr. Sabina Jeschke, DB's Board Member for Digitalisation and Technology, signed a new agreement. Expanding their partnership, the companies will pool their knowhow on technologies and digitalisation to build the railway system of the future. 
The new agreement is focusing on seven topics, all aimed at automating operations and enhancing the quality, performance and appeal of rail transport. Even though rail is already the greenest mode of transport, decarbonisation and energy management are still part of the cooperation to accelerate the integration of new solutions and to meet the expectations of the European Green Deal. 
Jean-Pierre Farandou, President of SNCF, said: "Our mission is to inspire the future, imagine better services for customers and build the foundations of a more efficient and resilient railway system. Thanks to this new partnership between our two countries, we strengthen our innovation and technology programmes that are serving our sector."
Deutsche Bahn's CEO, Dr. Richard Lutz, said: "As two of Europe's largest railway companies, SNCF and DB face similar challenges and can benefit from similar solutions. Our partnership with SNCF is highly significant in this regard: It forms the basis to unite around European standards and initiatives – as well as to collaborate closely and share ideas and experience. That is what is needed to forge ahead with building a truly European rail system." 
Continuing initiatives are focused on the future European architecture of railway systems and their structuring technological bricks, such as: Autonomous trains; the failsafe localisation of trains; future communication systems – including 5G and smart railway operations – and simulation methods; and artificial intelligence (AI).
Both companies also want to accelerate progress in key areas, such as: Digital freight to improve cross boarder client information; and Building Information Modelling (BIM) for digital twin-based virtual design and construction of railway assets and guidance to passengers by mobile apps. Furthermore, the companies have agreed to share experiences on alternative drives such as biofuel, hybrid, batteries and hydrogen and green stations, as well as energy management, materials and resources. 
By forging closer ties in research and innovation, the two rail companies have reaffirmed their vision and their goal: To work together to prepare new standards that aim to accelerate the European rail industries path into the future.