GB Railfreight receives first intermodal wagon sets from VTG Rail
The wagons will be used to support GB Railfreight's growing demand for intermodal services and contribute to the reduction of carbon emissions.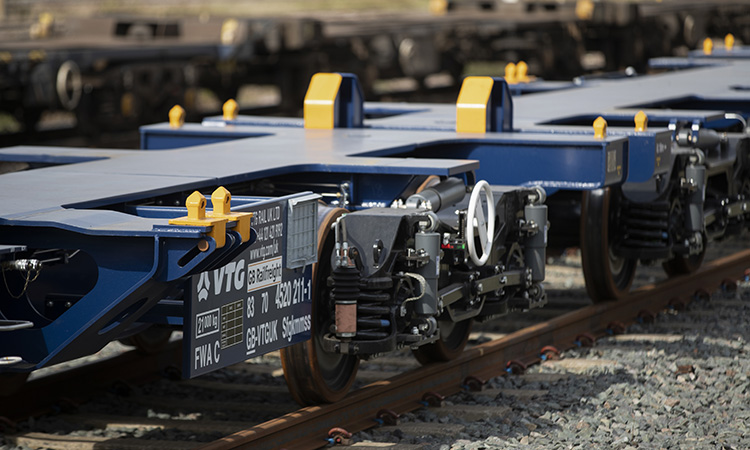 Credit: GB Railfreight - GB Railfreight Ltd take delivery of VTG's Ecofret2 wagons at their Peterborough depot.
GB Railfreight (GBRf) has officially received the delivery of its first operational Ecofret2® triple-container flat wagon sets from VTG Rail, which will be used to support GBRf's growing demand for intermodal services.
The wagons arrived at GBRf's new headquarters in Peterborough following successful prototype testing and approvals. The Ecofret2® is the latest innovation in maritime container transport and a revolutionary addition to VTG Rail's fleet. These state-of-the-art wagons remove empty spaces that are often present in other wagons, but which are inefficient and cause turbulence during the journey, thus reducing fleet efficiency.
The announcement of the arrival of the new wagons is another remarkable achievement in GBRf's intermodal journey. The company already has 21 intermodal services running across the country, and the new Ecofret2® wagons will only help the business to remain at the cutting edge of the industry in this field.
The investment, worth £50 million, also shows GBRf's resilience in the aftermath of the COVID-19 pandemic and its willingness to stride forward as nationwide restrictions are eased.
In addition, with climate change at the forefront of the political agenda, GBRf is delighted to be contributing to the reduction of carbon emissions by expanding its intermodal fleet: an intermodal train only emits 5.4 pounds of carbon emissions per every 100-ton miles. Therefore, not only will GBRf increase the amount of goods and materials transported by rail, but the business will also ensure that their carbon output remains low in the process.
Julie Garn, Head of Intermodal at GB Railfreight, said: "I am delighted to be receiving this shipment of Ecofret2® wagons from VTG Rail. Growing the intermodal side of our business will be crucial to us to ensure that we bounce back from COVID-19. In addition, there are huge benefits to moving more freight by rail, including carbon emissions, which will be vital if we are to reach net zero emissions by 2050."
David Golding, Asset Director at GB Railfreight, added: "I couldn't be more pleased to see the Ecofret2® wagons arrive and join our service. They are at the forefront of innovation in the intermodal sector and will make GBRf more and more competitive as we look to grow our business in the months and years to come".