DB Cargo increases efforts to deliver noise emission reductions
In order to reduce the impact of rail noise on German residents, DB Cargo has implemented a range of measures, including noise protection walls, to achieve its reduction target.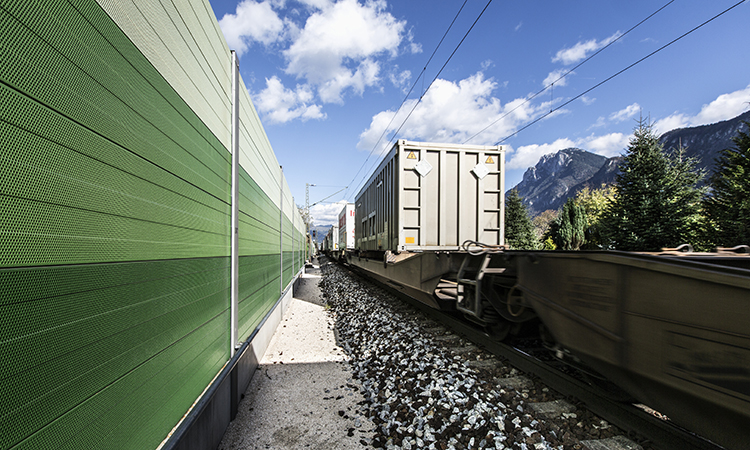 Credit: Deutsche Bahn
The German federal government and Deutsche Bahn (DB) have outlined their intentions to relieve half of all residents from the impacts of rail noise. As a result, DB is now taking further measures: led by DB Cargo, only new electric mainline locomotives with quiet braking systems will operate on the network by 2025. At the same time, DB will put high-emission diesel locomotives out of service and thus make a further concrete contribution to environmental and noise protection.
Dr. Sigrid Nikutta, Deutsche Bahn's Goods Director, said: "In the European Year of Rail, we at DB are making it unmistakably clear: the future belongs to green rails, they form the backbone of our traffic and goods flows. The railway will be even quieter and greener in the future. After the successful retrofitting of our freight wagons, our mainline locomotives are now on their way. By purchasing only new locomotives with disc brakes, our DB freight trains will be much quieter across the country for the foreseeable future."
DB announced the interim target along with the Group's annual noise protection report. By 2025, all of DB Cargo's 850 electric mainline locomotives will be running with quieter disc brakes – 90 per cent of these locomotives are already equipped accordingly. A binding ramp-up now applies to the remaining 10 per cent of the vehicles. Second, DB Cargo Germany will, in future, only purchase new freight wagons with innovative noise protection components, which will further increase the freight railway's contribution to less noise.
In order to further reduce rail traffic noise, DB Cargo will also phase out diesel locomotives of the 232/233 series by 2030. These high-emission vehicles of Soviet production will finally reach the end of service after more than 50 years of use.
The second pillar for less rail noise aims to invest millions in noise protection along the lines. The noise protection report presented on 28 April 2021 balances the effect. As announced, rail traffic noise was already halved in 2020 by retrofitting 100 per cent of all freight wagons with quieter 'whisper brakes' at DB Cargo Germany and through the federal noise abatement programme.
At the end of 2020, the mark of more than 2,000km of noise-rehabilitated route was broken for the first time (2019: 1,844km). Over 75km of new noise protection walls were completed in 2020 along the existing routes and around €146 million was invested in this.