Deutsche Bahn begins rapid hydrogen refuelling system tests
Deutsche Bahn's mobile filling station will enable the rapid refuelling of hydrogen trains within 15 minutes, paving the way for climate neutrality.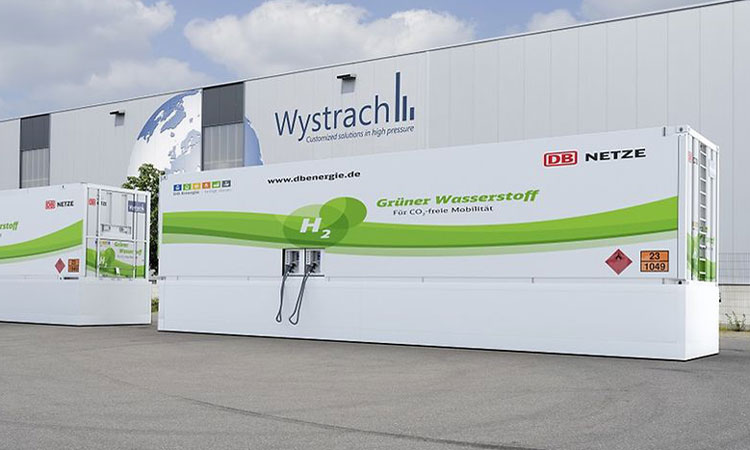 Credit: Deutsche Bahn
Deutsche Bahn (DB) has announced that it is testing a new type of rapid refuelling system for its first hydrogen filling station. The first system of this type, it will enable the rapid refuelling of hydrogen trains within 15 minutes. Until now, this has only been possible with conventional diesel fuelling.
The first DB hydrogen filling station for rail has been designed in the past six months. Its core element, a new type of rapid refuelling, will be tested in a laboratory environment from mid-July and will last for several weeks. DB aims to start the assembly of the filling station in autumn 2021, with the hope that it will go into operation in summer 2022.
"Hydrogen generated with green electricity as an alternative to diesel is paving the way for climate neutrality," commented Chairman of the Management Board of DB Energie GmbH, Torsten Schein. "Green hydrogen can be a success in rail transport if fast, reliable and competitive refuelling times with conventional diesel systems are possible. This filling station infrastructure is of crucial importance: it is an innovation and will set standards."
DB Energie's first hydrogen filling station will be part of an overall system consisting of a filling station, a local train newly constructed by project partner Siemens Mobility and a maintenance facility from DB Regio AG that has been made fit for hydrogen trains.
The climate neutral hydrogen is produced directly at the location of the new local train. The filling station – consisting of storage, gas and pump technology, cooling and compression for hydrogen – is designed to be mobile in order to be able to quickly advance further hydrogen projects on the railways.
The joint funding project under the name H2goesRail, which has been running since 2020, will begin its one-year trial operation on the rail between Tübingen, Horb am Neckar and Pforzheim in 2024.
The DB Group recently brought forward its goal of climate neutrality from 2050 to 2040. Alternative drives and fuels are of great importance in replacing diesel multiple units in regional transport.