UK government publishes its Transport Decarbonisation Plan
The groundbreaking Transport Decarbonisation Plan includes the aim to create a net zero rail network by 2050.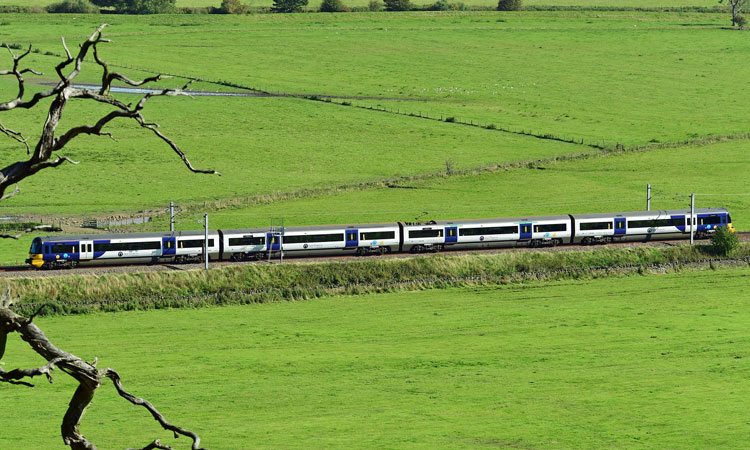 Credit: RDG
Cleaner air, healthier communities and tens of thousands of new green jobs are set to become reality thanks to the UK's revolutionary Transport Decarbonisation Plan, announced on 14 July 2021 by the Transport Secretary, Grant Shapps.
With just months to go until the major climate summit, COP26, the plan provides a world-leading 'greenprint' to cut emissions from the UK's seas and skies, roads and railways, setting out a credible pathway for the whole transport sector to reach net zero by 2050.
The plan includes details of how the government will decarbonise and improve all forms of public transport, so how does rail play a part in this?
Decarbonising rail
Earlier in 2021, the WIlliams-Shapps Plan for Rail set out a transformation in rail, encouraging a shift to cleaner, greener journeys.
The Transport Decarbonisation Plan states that, between now and 2050, Great British Railways will deliver a programme of further electrification, together with use of battery and hydrogen trains, to enable a zero carbon railway.
The plan includes several 'commitment' statements by the DfT, including:
'We will deliver a net zero rail network by 2050, with sustained carbon reductions in rail along the way. Our ambition is to remove all diesel-only trains (passenger and freight) from the network by 2040'
'We will deliver an ambitious, sustainable, and costeffective programme of electrification guided by Network Rail's Traction Decarbonisation
Network Strategy (TDNS)'
'We are supporting the development of battery and hydrogen trains and will deploy them on the network as we decarbonise. We will also use technology to clean up diesel trains until they can be removed altogether'
'We are building extra capacity on our rail network to meet growing passenger and freight demand and support significant shifts from road and air to rail'
'We will work with industry to modernise fares ticketing and retail to encourage a shift to rail and cleaner and greener transport journeys'
'We will improve rail journey connectivity with walking, cycling and other modes of transport'
'We will introduce a rail freight growth target'
'We will incentivise the early take up of low carbon traction for rail freight'.
Industry responses
Rail Delivery Group
Responding to the plan, Andy Bagnall, Director General of the Rail Delivery Group, said: "Taking the train is already one of the greenest ways for people and goods to move around the country and rail companies are eager to work with government to make it even greener. In the longer-term, that means a rolling programme of electrifying lines and investing in new battery and hydrogen technology. To make it easier for people to get on board with going green now, government should take a 'polluter pays' approach when it comes transport taxes like air passenger duty, and reform the rail fares system to encourage more passengers back by making it simpler to use and easier to get a good deal."
High Speed Rail Group (HSRG)
Commenting on the plan, a High Speed Rail Group (HSRG) spokesperson said: "We welcome today's publication of the government's Transport Decarbonisation Plan, in particular its recognition of the important role that modal shift in favour of low carbon transport, alongside investments including rail electrification, will play in the journey to net zero. Today's publication is a useful step in that journey, but In order to achieve this shift, a more ambitious long-term plan for rail, including high-speed rail, must be set out. HS2 should remain central to government planning, recognising that in addition to its substantial capacity benefits, its potential to transform travel patterns and reduce emissions across the network will be hugely significant. Beyond HS2 though, there is a need for a longer term programme of achieving modal shift by bringing high-speed rail to all nations and regions of Britain. In particular, we hope that the upcoming Union Connectivity Review can build on today's publication with a clearer plan to make that happen."
Rail Freight Group (RFG)
Commenting on the plan, Maggie Simpson OBE, RFG Director General, said: "This plan sets out a clear vision for the decarbonisation of freight transport and recognises the vital role that rail has to play in reducing carbon emissions. We welcome government's commitment to setting a target for rail freight growth, and to the electrification of strategic gaps in the network, allowing more freight to be electrically hauled. Businesses across the country are looking to make more use of rail freight as they work to decarbonise their supply chain. This plan should help underpin the investments they need to make to do so – but it must now be backed by the necessary action to deliver on the government's ambition."
Transport for the North
Tim Wood, Interim Chief Executive at Transport for the North, commented: "Addressing the climate emergency through the decarbonisation of our transport network is an urgent priority, and this national plan is to be welcomed. The key will be to translate its aims into action as swiftly as possible. As our Decarbonisation Strategy for the North of England is finalised later this year we're confident that our region will set the pace for climate action and hit our target of near-zero carbon emissions from surface transport by 2045 – ahead of national policy. The North is at the cutting edge of green innovation and is perfectly positioned to lead the way on many of the opportunities and initiatives – such as the roll-out of electric vehicle charging networks and adoption of hydrogen as a clean fuel. Investment in our region will support the critical Green Economic Revolution and aid the wider levelling-up agenda. Publishing the Integrated Rail Plan must now be a priority in order to understand when HS2, Northern Powerhouse Rail and other major projects such as the Transpennine Route Upgrade and rail electrification will be delivered."