Alstom and Liebherr to collaborate on hydrogen fuel cell optimisation
To optimise hydrogen systems in the railway industry, Alstom and Liebherr have signed a collaboration agreement that plans to improve the reliability, durability, power density, and cost of fuel cells.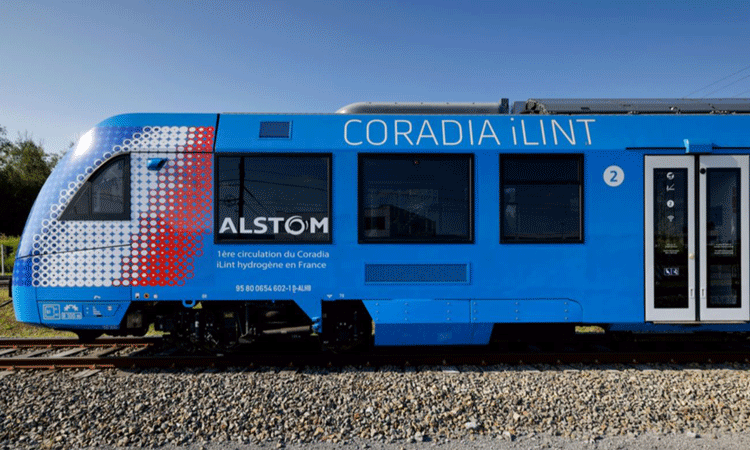 Credit: Alstom
Liebherr – Aerospace & Transportation SAS, a France-based company specialising in the manufacture of compressors for fuel cells has signed a collaboration agreement1 with Alstom, which is aimed at optimising hydrogen systems, including improving the reliability and durability of fuel cells, increasing their power density, and reducing the cost of such solutions.
Jean-Baptiste Eyméoud, President of Alstom France, commented: "Alstom has made sustainable mobility one of the pillars of its strategic plan 'Alstom in Motion 2025'. Our ambition is to accelerate the adoption of hydrogen in the rail industry and to develop innovative solutions in the context of the greening of heavy mobility, including regional trains, shunting locomotives, and freight locomotives. To develop a hydrogen ecosystem, particularly in France, we need to mobilise the public authorities and all the players in this sector. As in many fields, we are innovating with structuring partnerships: SNAM, Plastic Omnium, Hynamics, Eversholt and now Liebherr."
Following the acquisition in April 2020 of Helion Hydrogen Power (an innovation start-up specialising in high-powered fuel cells, based in Aix-en-Provence), Alstom has now chosen to collaborate with the Liebherr group, which has a strong presence in the South-West of France.
Leveraging its extensive experience in fuel cell technology for automotive and aerospace applications, Liebherr, as a supplier of turbochargers to fuel cell system integrators, will play a major role in the process of reducing emissions from rail transport.
This collaboration between Alstom and Liebherr is an additional asset in the development of Alstom's hydrogen business, which relies, among others, on Alstom's site in Tarbes (in the South-West of France), a global Centre of Excellence for 'green' traction systems, and on Alstom Hydrogène site in Aix-en-Provence, which covers the entire high-power fuel cell value chain and focuses mainly on the energy and transport markets, in France and internationally.
In addition, Alstom signed an agreement with SNAM2 (Italy's leading natural gas transport company) in 2020 to develop hydrogen trains and associated infrastructure. Alstom will be responsible for the production and maintenance of the hydrogen trains (new or retrofitted), while SNAM will develop the infrastructure for the production, transport, and refuelling of these trains.
Alstom also announced in October 2021 that it had signed a memorandum of understanding with Plastic Omnium, a major player in hydrogen mobility, for the development of high-end hydrogen storage systems for the rail sector.
References
1) The agreement between Alstom and Liebherr – Aerospace & Transportation SAS does not establish a partnership or joint venture between the Parties. Whilst each of the Parties intend to cooperate as described in the agreement, both Parties acknowledge that nothing in the agreement shall oblige either Party to enter into any further agreements.
2) Società nazionale Metanodotti (SNAM).