Class 707 train lease extension to boost SWR fleet availability
South Western Railway has retained 12 Class 707 trains, extending the original lease period until August 2022, improving availability and capacity on the network's suburban routes.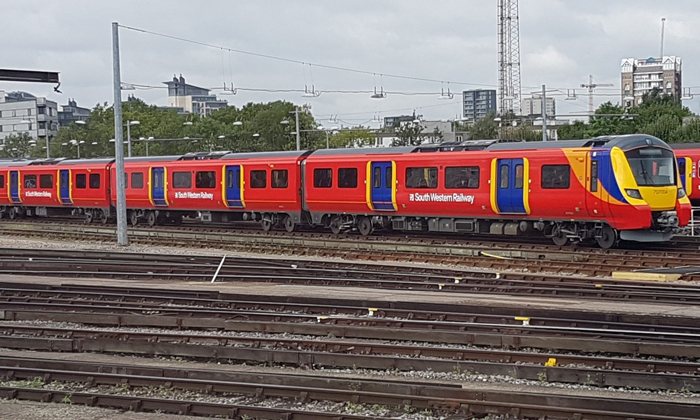 Class 707
Class 707 trains are set to continue serving South Western Railway (SWR) customers until August 2022, helping to improve capacity on the network's suburban routes.
Twelve out of 30 of SWR's 707 fleet was due to move to the Southeastern network but, following an agreement signed between the two train companies, SWR's lease on the units has been extended until August 2022.
The move is set to alleviate future pressure on SWR's train capacity, which – prior to passenger numbers reducing as a result of Omicron – had been impacted by the altered Arterio introduction. SWR says it is waiting for manufacturer Alstom to supply a train that performs to specification and will deliver consistently better journeys for customers and colleagues. SWR will then begin its extensive programme of testing, training, and business mobilisation.
Pre-empting the Arterio introduction, SWR refrained from spending significant sums – at a time of significantly reduced passenger numbers – on overhauling trains which were due to be retired and replaced, resulting in pre-Omicron challenges around fleet availability and capacity.
As well as securing the Class 707s for longer and working closely with Alstom to roll-out the Arterios, SWR has taken further measures to maximise fleet availability in readiness for customers returning to the railway once restrictions are lifted, including:
The recruitment of additional engineers to increase the capacity of maintenance and safety programmes
Control teams adapting the timetable to deliver available carriages to where they are most needed. This involves closely monitoring customer demand and changing the calling patterns on some services to relieve pressure at the busiest stations
Reconfiguring existing train formations to provide more capacity on SWR's suburban lines.
"Prior to the outbreak of the most recent coronavirus variant, the delay to the Arterio roll-out had created a challenging situation on parts of our network and I'd like to apologise to our customers and thank them for their patience during this testing time," commented SWR's Managing Director, Claire Mann. "I want to assure our customers that we have comprehensive short-, medium-, and long-term plans in place to really get to grips with this challenge and protect customer journeys once people again return to the railway. Retaining the Class 707s is a key part of our medium-term approach, and I'd like to thank Southeastern for working with us in such a constructive way to support the wider interests of all railway users."
"This short lease extension won't negatively affect our customers as we will be able to adjust our timetable as required to make sure we have enough capacity," said Southeastern Passenger Services Director, David Wornham. "We agreed to a small change in the transfer schedule as we understand the challenges SWR is facing and we want to help out. I look forward to introducing the remaining trains onto our busier metro routes in the summer when I hope passenger numbers will be closer to pre-COVID-19 pandemic levels."