Transport for London unveil the Elizabeth line on new London tube map
The Elizabeth line is depicted on the tube map in purple to differentiate it from the London Underground lines.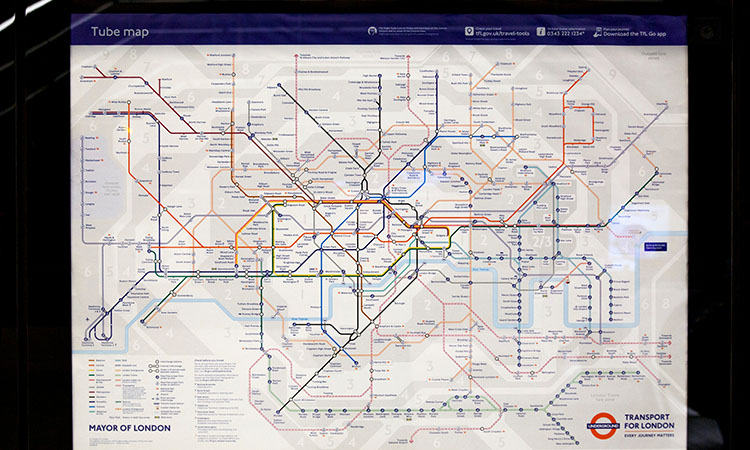 Credit: TfL
Transport for London (TfL) has published the latest tube map (see below) which shows the new Elizabeth line and its stations ahead of its launch on 24 May 2022, marking the biggest change to the tube map in recent history.
Services on the Elizabeth line's new central section will run from Paddington to Abbey Wood through the tunnels beneath London constructed by Crossrail. This route now appears on the tube map as a double purple line rather than a solid line to differentiate the Elizabeth line as a new railway as opposed to a London Underground line.  
The Elizabeth line will initially run 12 trains per hour between Paddington and Abbey Wood, Monday to Saturday. New stations are now in the final stages of preparations ahead of opening to customers including signage and customer information. 
To assist passengers finding their way to or from the new stations, there have also been updates made to signage and wayfinding across London. The free TfL Go app will be updated to show the route as well as full accessibility information for users from launch day. Apps that use TfL's open data feed will show new station locations and entrances.
The existing TfL Rail lines from Paddington to Heathrow and Reading, and from Liverpool Street to Shenfield become rebranded as part of the Elizabeth line from day one of opening and are also displayed on the map in Elizabeth line purple. Customers will initially be required to change at Paddington and Liverpool Street to access Elizabeth line services in the new central section.
All stations on the Elizabeth line will be step-free by the end of this year, with work continuing to provide lifts at Ilford and Romford stations. Stations from Paddington to Woolwich and at Heathrow provide level access from platforms to trains, which is reflected on the map.
"Our world-renowned map now has another iconic addition in the Elizabeth line, which will serve London and the South East for hundreds of years to come," Julie Dixon, Interim Customer and Revenue Director, said. "When it opens, the Elizabeth line will begin providing greater connectivity and step-free access from Reading and Heathrow to Shenfield and Abbey Wood through the centre of London."
Bond Street Elizabeth line station will open later this year. Work continues at Bond Street to complete the station for customers as soon as possible. There will be two entrances, one at Davies Street (providing interchanges with the Central and Jubilee lines) and one at Hanover Square.
The updated London tube map can be found below.