New innovative lighting project implemented at Redditch station
Train operator London Midland has worked with West Midlands lighting company, Thorlux Lighting, to install a raft of cutting edge technologies at Redditch station.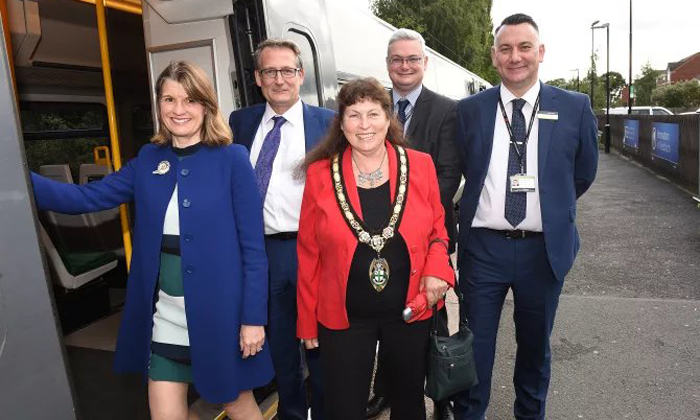 Rachel Maclean, MP for Redditch, Mark Austin, sales director, Thorlux, Cllr Jenny Wheeler, Mayor of Redditch, Rob Goode, head of property at London Midland and Rob Hornsey, head of cross city services at London Midland
To provide a brighter, more welcoming environment for passengers using the station, 71 new LED light fittings have been installed across the platforms and car park at Redditch station, replacing older and less reliable lighting systems.
"This is another example of London Midland's commitment to using innovation to create simply better journeys for our customers," said Rob Hornsey, head of route for Cross City services at London Midland. "The partnership with Thorlux means we have a brighter, lighter, safer station that is also better for the environment."
Safety and energy efficiency have been keys goal of the project and light levels have now increased across the station and on the platforms to 100 lux. Furthermore, all of the new installations are fitted with presence detectors, meaning that the fittings brighten and dim depending on the time of day and the number of people around the station.
SmartScan
The individual lights are connected to a central control service via the Thorlux SmartScan system, whichs allows the performance of each fitting to be monitored remotely, their individual performance assessed and any faults to be identified in real time.
"We were delighted to be selected as a supplier to London Midland, following a thorough evaluation process," added Mark Austin, sales director at Thorlux Lighting. "Our SmartScan lighting control and monitoring system precisely matched all of their requirements and aspirations."
The property team at London Midland can also see how much energy each fitting has used and the amount spent on electricity. Energy consumption is minimised through the Thorlux carbon offsetting project, which sees trees planted across a 215 acre piece of land in Monmouthshire. To date, Thorlux has planted 149,849 trees, offsetting over 32,000 tonnes of carbon dioxide produced in the manufacture and use of its products.
This is a real win win situation – saving electricity, helping the environment with less light pollution and helping what is an excellent local business…"
"I was delighted to see a local company become involved in this fascinating project – it is always pleasing when local businesses invest in their local community," Rachel Maclean, MP for Redditch concluded. "This is a real win win situation – saving electricity, helping the environment with less light pollution and helping what is an excellent local business increase their profile both in Redditch and across the Midlands."
Related organisations
Related regions