TransPennine Express reveals first image of its brand-new trains
TransPennine Express (TPE) has shared an exclusive image of the first carriage from the second fleet of its new trains.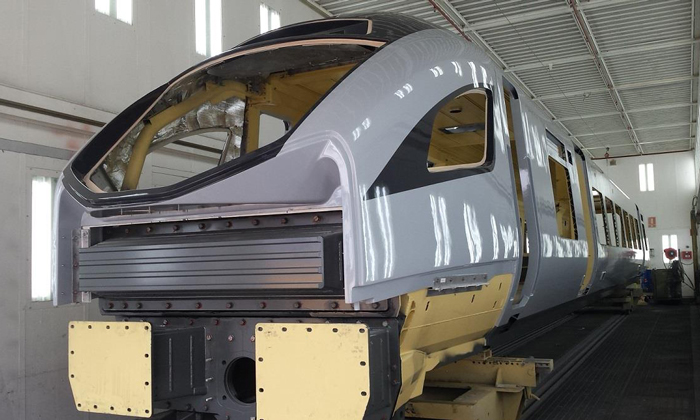 The new fleet is part of TransPennine Express' £500 million investment programme which aims to deliver more services and seats. It also aims to enhance customer experience, with all the trains having comfortable seating, plugs and USB points, as well as more luggage space, fast free Wi-Fi and an entertainment system enabling the latest films, news and boxsets to be downloaded straight to phones and devices.
Each train will also have display screens providing real-time reservations and new catering facilities.
"This is an exciting step towards providing brand new, state-of-the-art trains plus more seats for rail customers across the North and into Scotland," said Leo Goodwin, Managing Director for TransPennine Express. "Once ready, these futuristic trains will be some of the most modern in the country and I'm thrilled to be overseeing such an important transformation."   
The 12 five-carriage trains are being introduced along with two other fleets to deliver 13 million more seats per year for customers, giving an 80% increase into the north's five largest cities at the busiest times of the day.
Furthermore, the company's existing trains are currently being treated to a full upgrade ensuring they are of the same high standard.
"We are proud to be part of TPE's mission to bring ultra-modern trains into operation between North West England and Scotland," added Mary Kenny, Chief Executive Officer at Eversholt Rail. "Our new generation high-speed EMU's under construction by CAF in Spain will help turn TPE's 'Take the North Further' vision into reality."
The new trains are being manufactured by Construcciones y Auxiliar de Ferrocarriles (CAF) in Spain, are owned by Eversholt Rail, and will be maintained by at Alstom's facilities at Longsight (Manchester) and Polmadie (Glasgow).
"CAF are delighted to be working with TPE to enhance their customers' experience and the opportunity to provide technologically advanced trains for their intercity-TPE services," concluded José María Muguruza, Project Manager for CAF. "The trains are the 'high speed' variant of the Civity electric train, are capable of 125mph operation and will provide passengers with a new journey experience. Providing free Wi-Fi, USB ports, improved information systems and the ability to stream media. CAF are continuing to strengthen their presence across the UK Market; and look forward to continued growth with the building of their Newport Assembly plant."
The new trains will operate on routes across the North West England and into Scotland from spring 2019.