GTR's new fleet programme passes important milestone
The Siemens-built trains offer passengers full width inter-vehicle gangways, climate-controlled air-conditioning and advanced information systems providing updates in real time…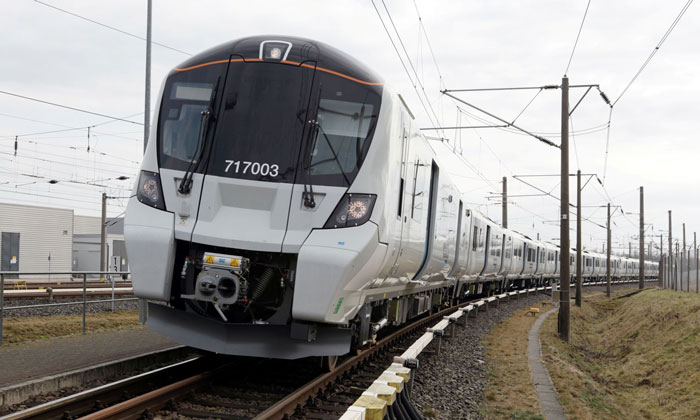 With 12 carriages now manufactured and entering the testing phase, the programme to introduce a £200 million fleet of brand new trains for Govia Thameslink Railway (GTR) has passed an important milestone.
The 12 newly built Class 717 Desiro City trains are undergoing testing whilst the remainder are currently in the process of being manufactured. The full fleet of 25 trains, that will operate on services between Hertfordshire and Moorgate, is expected to be phased into service from late autumn 2018. 
Richard Carrington, Director of Rolling Stock Projects at Siemens, said: "The testing phase marks an important milestone in the plans to introduce this new fleet of advanced trains for Great Northern services. We have designed and built the trains to transform passenger journeys to and from London by ensuring that services are reliable and offer as much space as possible. It's therefore crucial that the trains are put through this testing to ensure they're fit to meet this purpose and allow passengers to enjoy the full benefits of these new and modern carriages." 
Approximately 200 people at Siemens are delivering the manufacturing, commissioning and testing phase, which involves putting the trains in a climatic chamber to assess their endurance in extreme weather conditions.
The 25 six-car trains, financed by Rock Rail Moorgate, represent the first fleet of trains to be introduced into the UK using a new model for financing rolling stock. For the first-time, financing has been provided through direct long-term investment from pension and insurance companies, delivering benefits not only for the passengers, but for pensioners and the wider economy. 
Gerry McFadden, Engineering Director of Govia Thameslink Railway, said: "Wide doors and spacious interiors will help address the huge increase in passenger numbers into Moorgate, which have doubled in just 14 years. Easier movement on-board will also help passengers board promptly, helping us keep trains running on time. We will maintain these trains at our Hornsey depot, where a multi-million pound investment is providing the new facilities and equipment."
The Class 717s will replace the existing Great Northern fleet of Class 313 trains, built in the late 1970s. Bringing a 27 per cent increase in fleet capacity, these trains are a key element of RailPlan 20/20, the programme by Govia Thameslink to carry 60,000 more passengers through, in and out of central London.