General Roca Railway's signalling system in Buenos Aires to be renewed
The General Roca Railway is the most extensive line in the metropolitan area of Buenos Aires, including 237km of track that transports 600,000 passengers per day.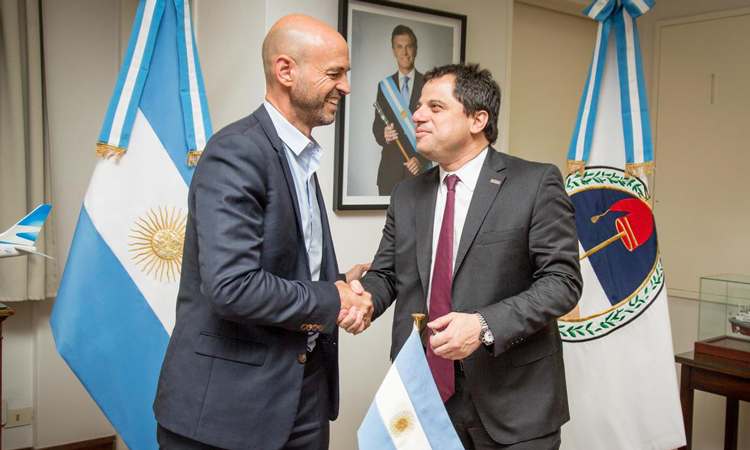 Guillermo Dietrich, Transport Minister in Argentina, and Ernesto Garberoglio, MD Alstom Argentina
The Alstom-led consortium with POSE has signed a contract totalling approximately €90 million to modernise the current signalling system on the General Roca Railway in Buenos Aires, Argentina.
The contract, awarded by the Argentinian Ministry of Transport, is part of the metropolitan railways recovery programme.
Alstom will provide its Smartlock electronic interlocking technology, the Iconis centralised traffic management system and the installation of the ATS (Automatic Train Stop) system. Alstom's responsibilities within the contract also include design, engineering, factory and field testing, technical integration, commissioning and the guarantee of the systems; supervision systems through the Local Traffic Centre, Centralized Traffic Control and Central Operations Post; pedestrian and automatic level crossing barriers; copper and fibre optic cables network and signalling room's detection and fire protection system.
POSE will also be in charge of the installation of pedestrian and automatic barriers for level crossings, as well as the copper and fibre-optic cable network, alongside the execution and integration of civil and electrical works, the construction of the control and operations centres, the engineering of the power line and optical fibre laying project, the installation of the equipment and the fire detection and protection system of the signalling room.
Together both companies will jointly carry out field tests, commissioning and warranty.
"We celebrate with great enthusiasm this new contract in Argentina. It is our first work on the General Roca Railway, one of the most important lines for passengers in Buenos Aires. This project will guarantee high safety for the thousands of users that use this line each day, optimising their trips with first-class technology," said Ernesto Garberoglio, Managing Director of Alstom Argentina.
"This contract implies great innovation and pride for our company, which continues to venture into railway projects of such magnitude," said Francisco Di Lisio, General Manager of POSE.