London Waterloo issues staff with mobile technology to advise passengers
Britain's busiest railway station puts passengers first with better, real-time travel advice and new uniforms for staff.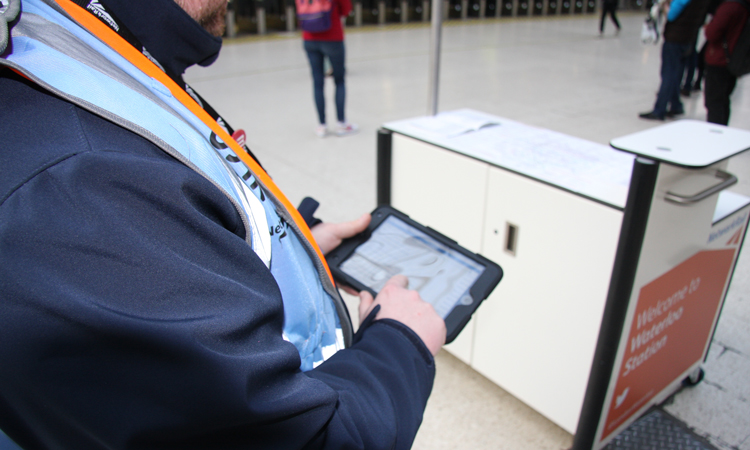 Station staff at London Waterloo station have been issued with mobile technology, meaning passengers can now benefit from more up-to-date travel advice in real time.
This is the first station team in London to be linked directly to their route's Rail Operating Centre (in Basingstoke), putting real-time information into the hands of all staff on the concourse for the first time. Previously they relied on National Rail Enquiries or a physical book with service information to be able to advise passengers.
Station support staff are also now more visible to passengers at the station, with new blue tabards which are joint Network Rail and South Western Railway branded.
Jason Murphy, Head of Stations for Network Rail's Wessex route, said: "At Waterloo, we move more people than a sold-out England game at Wembley Stadium during evening rush hour alone, so being visible and communicating up-to-date information to our passengers is vital to the smooth running of the station.
"We are absolutely focused on improving things for our passengers and are making these changes so we can make their journey through the station easier and more comfortable."
Other changes include the passenger information desks at the station are now staffed all-day – not only at peak times. New passenger information screens have replaced advertising boards at Exit 2 (which sees more people pass through it than the whole of Manchester Piccadilly in peak periods) to provide clear and relevant information to passengers.
Anthony Smith, Chief Executive of Transport Focus, said: "It is great to hear about another big rail station taking steps to present one team on the concourse with access to real-time information for the benefit of passengers.
"We look forward to seeing the improved passenger experience this collaborative effort can deliver."
Chico Coulibaly, London Regional Manager for South Western Railway, said: "We're absolutely focused on putting customers at the heart of everything we do and our station staff are vital to the smooth running of Waterloo.
"We want our staff to stand out from the crowd, so being highly visible with the latest technology means customers can receive the best real-time information to help them on their way.
"This is part of a bigger project to transform Waterloo station into the best railway station in London."