HS1 Ltd proposes link between London and Bordeaux
Passengers will be able to travel from London to Bordeaux in less than five hours, using the new proposed high-speed line.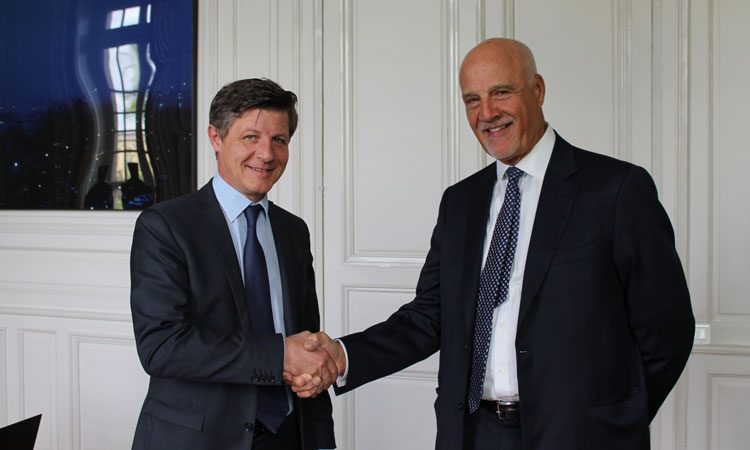 Keith Ludeman and the Mayor of Bordeaux
Under a blueprint for high-speed train travel unveiled to civic leaders in Bordeaux, passengers could soon be experiencing fast and environmentally-friendly travel between London and south west France. 
Keith Ludeman, Chair of HS1 Ltd, met the Mayor of Bordeaux and the Regional President of the Nouvelle-Aquitaine region to discuss the development of the first full cross-Channel train terminal in more than 25 years.
HS1 Ltd, which owns and operates the high-speed railway linking London and Kent to the Channel Tunnel, predicts that up to 200,000 passengers will use the service per year. At present, more than a million people fly to the south west region each year.
Ludeman said: "The prospect of travel between the centre of London and Bordeaux in less than five hours brings south west France within easy reach for business travellers and holidaymakers. France is the second most popular holiday destination for Brits abroad. This is on top of the one in four British citizens in France that live here so the commercial incentive to open up this route is clear."
City-centre to city-centre train travel helps passengers avoid the queues and extra travel time associated with some airports. It is also far more environmentally friendly, as a journey by high-speed train produces 90 per cent less pollution than catching an aeroplane.
Ludeman met with Nicolas Florian, Mayor of Bordeaux and Vice-President of Greater Bordeaux, Alain Rousset Regional President of the Nouvelle-Aquitaine region and Hervé Le Caignec, President of LISEA to discuss progress with developments.
In 2018, international operators, including LISEA, Eurotunnel and SNCF Réseau, agreed to work together on new train routes, which would allow for a new international train operator to get the direct service to Bordeaux up and running within two years.
The proposed route being progressed by HS1 Ltd takes advantage of LISEA's newly completed 302km French high-speed rail line linking Tours with Bordeaux. The new service will be direct, with no need to change trains and will offer a less than five-hour journey time. High-speed international trains will reach speeds of up to 200mph between the two cities.