Innovate UK seeks digital solution to assist UK rail freight transformation
The UK's Innovation Agency, Innovate UK and the Department for Transport's SBRI have awarded funding to HiveLOGIC Limited to provide a digital solution to help transform rail freight logistics.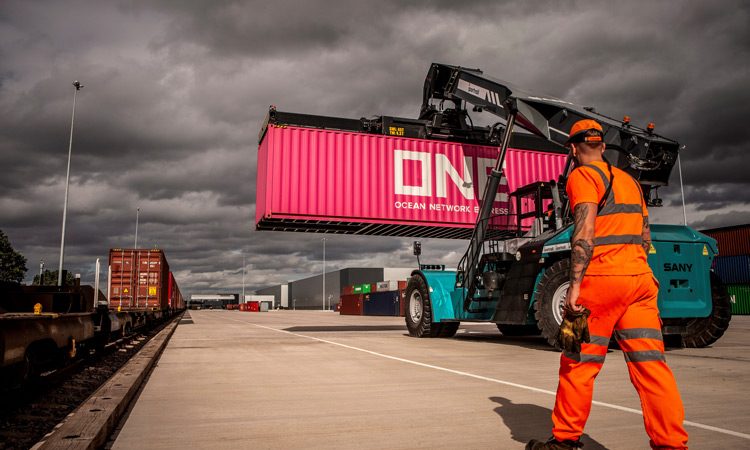 iPort Rail, Doncaster
In the UK today, 95 per cent of all freight moves through seaports – that's 482 million tonnes of freight, the equivalent of a small lorry load for every man, woman and child in the UK. With most of this freight clogging up the UK road network, road congestion is at an all time high and will get much worse. Congestion and its threat to the environment is a major hurdle for the UK, risking legal consequences of failing to meet Climate Change targets.
Fewer lorries – more trains
Innovate UK and the Department for Transport (DfT) will work with HiveLOGIC and their key partners to develop an app to transform the UK freight and logistics landscape through a cost-effective, 24/7 platform akin to transformational and popular apps; be it ride-sharing, food ordering or e-bikes.
It will create a modern future in which road freight and rail freight will work together more closely. And as hydrogen powered trains become more widely available the shift becomes even more compelling.
The key objectives of the funded project are summarised in four Cs:
Capacity growth in rail freight – real-time access will drive demand in rail container volume
Carbon reduction– 76 per cent less CO2 emissions than the equivalent HGV journeys
Customer service– improvement will deliver exceptional value and service to customers
Cost reduction– rail freight will become a cost-effective alternative to road.
An app to transform rail freight
Margaret Adams, Chair of HiveLOGIC, said "We'll transform the UK freight sector with our app. It'll provide a greener, cheaper, faster and less congested alternative for freight. We're at the start of a very important journey to reduce traffic on our roads while improving our environment and air quality – what's not to like about that."
Margaret continued: "With Innovate UK and the DfT support, we'll deliver incredible value to the UK economy, protect our environment and build a new market to appeal to the investment community. We're looking forward to taking this onto the global stage. The eco benefits are hugely important to me and my team."
HiveLOGIC are working with a small group of partners (Beta Technology Ltd, FluidIT Consulting, Inter-Ways Ltd, T Riley Transport Ltd) to deliver the solution to iPort Rail, a leader in the UK's rail freight industry. A recent winner of the 'Major Project of the Year Award' at the 2019 Rail Industry Innovation Awards, iPort Rail has seen substantial growth over the last 12 months at their state-of-the-art facility in Doncaster which has capacity to host the UK's longest trains offering storage space for up to 1,500 TEUs.
Steve Freeman, Managing Director of iPort Rail, said: "So many people have worked incredibly hard to bring iPort Rail to this award-winning stage. We're expecting iPort Rail to become even more popular as we develop eco-friendly freight solutions whilst minimising road congestion. Working with HiveLOGIC to design and build a transformational app by March 2020 will help us deliver our business plans. Freight transport in the UK is set to move into a green rail and road network."