First KISS for Hungarian Railways rolled out in Dunakeszi
First KISS trains for MÁV has been ceremonially rolled out and will begin the necessary tests required for commercial operation.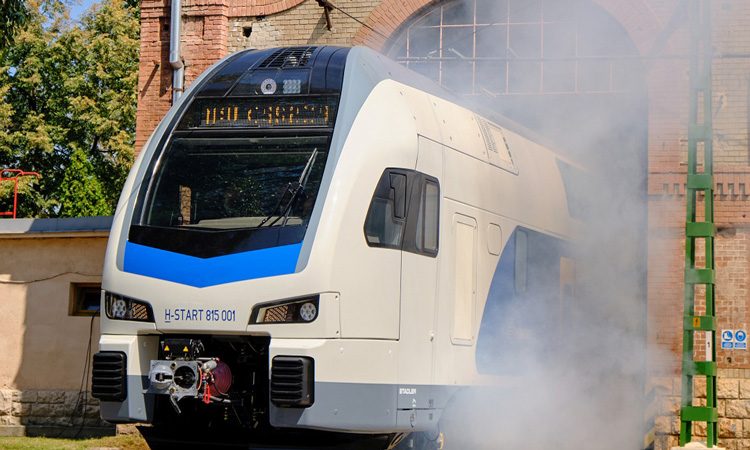 According to the agreement between MÁV-START and Stadler, the presented vehicle, together with 10 additional units, can start commercial service from February 2020 on the suburban railway lines of the capital Budapest to Vác and Cegléd.
At the beginning of 2021 another eight doubledecker trains are expected to arrive, by which time these suburban lines will be served completely by modern electric trains. The presented EMU together with its counterpart will start the official type tests in Germany and the Czech Republic this week.
The arrival of new trains will open a new chapter in the passenger transport service of Hungarian Railways, because due to the double-decker units the length of journey will shorten, and the timetable will also be stabilised. MÁV-START and Stadler signed a frame agreement in 2017 about the delivery of up to 40 units, which can be exercised in the form of different delivery contracts in the following eight years.
Up until now MÁV has ordered 19 units in total from the available 40 trains. The 155.88 metre long, 2.8 metre wide and 4.6 metre high multiple units will consist of six coaches. 600 passengers find comfortable seats, that is 50 per cent more passengers compared to a single-decker unit with the same length.
The trains will be equipped with four toilets, one of them accessible for persons with reduced mobility, while in the multifunctional areas there will be plenty of space for four wheelchairs, as well as 12 bicycles or five strollers. The new vehicles, which have been designed according to the latest safety standards, will be equipped with EVM and ETCS Level2 train control systems, making them able to run at a top speed of 160 km/h on the modernised railway lines of Hungary. Passenger comfort will be enhanced by the exceptionally smooth running passenger information system, a spacious and bright interior, air conditioning and free Wi-Fi.