University of Birmingham leases high-speed train from Porterbrook
In a bid to develop decarbonised power solutions for the trains of the future, the University of Birmingham will use the leased rolling stock to research alternative power solutions.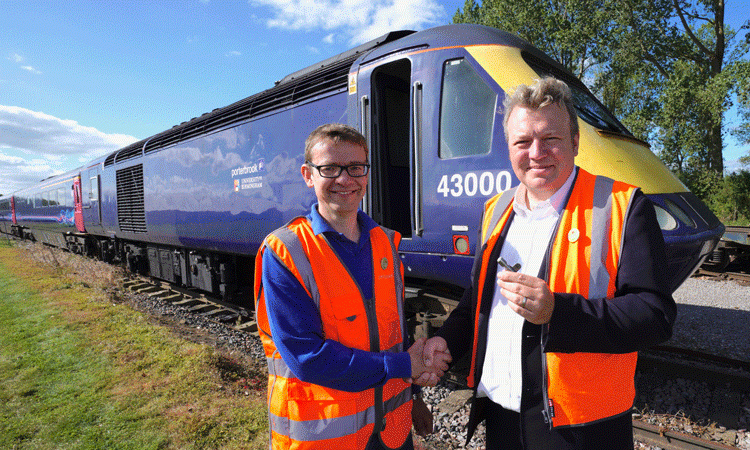 (L) Stephen McGurk, Porterbrook / (R) Alex Burrows (BCRRE)
Rolling stock asset management company, Porterbrook, has leased one of its iconic high-speed trains to the University of Birmingham.
The high-speed trains revitalised inter-city rail travel in Britain from their introduction in the late-1970s and are held in huge affection by travellers and enthusiasts alike. The high-speed train will enable the University of Birmingham to test and develop a range of digital and decarbonisation innovations on a highly flexible rolling stock platform.
Porterbrook's decision to lease the train to the University of Birmingham is part of the company's commitment to the UK Rail Research and Innovation Network (UKRRIN), which brings the rail industry and academia together to develop innovative products. 
This donation follows the successful proof of concept of the UK's first Hydrogen train, HydroFLEX. The innovative train ran for the first time earlier in 2019, thanks to the collaboration between Porterbrook and the University of Birmingham.
As a part of this further committed investment, Porterbrook will become a full UKRRIN industrial partner as well as further developing their active research and innovation partnership with the University of Birmingham.
By using the high-speed train as a research platform, the University of Birmingham can accelerate its existing research into alternative power sources suited for trains with more demanding duty cycles, such as long-distance passenger or freight operations.
Stephen McGurk, Chief Commercial Officer at Porterbrook, said: "We're delighted to be able to support the University of Birmingham by making available one of our high-speed trains that has been recently retired from frontline passenger service. We are very excited by some of the ideas that the University is exploring that will reduce emissions and decarbonise the railway. We look forward to some of these coming to market in the very near future."
Alex Burrows, Director, of the Birmingham Centre for Railway Research and Education (BCRRE), said: "This high-speed train will be invaluable in allowing us to test and develop our technologies on an operating train and in an open environment. It is by having facilities like these that we can really deliver world-leading research and innovation that will transform the railway for operators and customers. We are hugely grateful to Porterbrook for their commitment to our research and innovation work at BCRRE."